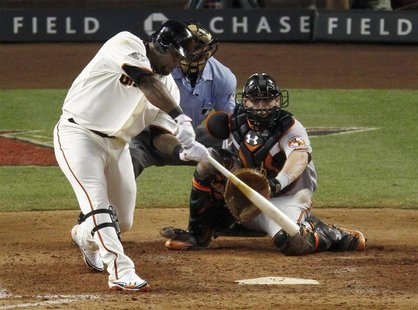 (Reuters) - The San Francisco Giants rewarded resurgent third baseman Pablo Sandoval with a three-year contract extension Tuesday.
After a season in which Sandoval redefined his game by losing 40 pounds and enjoying an All Star year, the Giants have given him a deal worth $17.15 million.
"We all recognize that his conditioning program in the off-season and in season is a big part of (his) success," Giants vice president of baseball operations Bobby Evans told the team's website (sanfrancisco.giants.mlb.com).
"We feel like Pablo has the desire and commitment to be productive and elevate his game. He's a big part of our present and our future."
The 25-year-old switch-hitting Sandoval batted .315 with 23 home runs last season despite missing 40 early-season games with injury.
In his first full season in 2009, Sandoval impressed observers by hitting .330 with 25 home runs and 90 RBIs.
But he slumped in 2010 before embarking on a fitness regime which resulted in a strong bounce back year.
(Writing by Jahmal Corner in Los Angeles. Editing by Patrick Johnston)