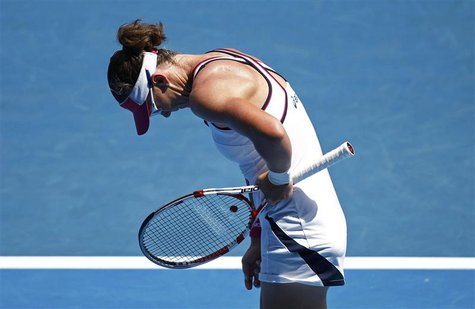 By Nick Mulvenney
MELBOURNE (Reuters) - U.S. Open champion Sam Stosur crumbled once again under the huge weight of local expectation to crash out of the Australian Open 7-6 6-3 at the hands of Romania's Sorana Cirstea in the first round Tuesday.
Sixth seed Stosur, who has never been past the fourth round at Melbourne Park, battled gamely at the end to stave off defeat but will rue 33 unforced errors against an aggressive opponent on a sun-baked and windy Rod Laver Arena.
"There's not any other word for it but a total disappointment," Stosur told a news conference, fighting back the tears at times.
"It's not through lack of trying or not wanting it or anything like that. That's sport. Unfortunately you can't pick and choose when it's all going to happen for you."
Cirstea, who reached the quarter-finals at Roland Garros in 2009, found the lines with her looping forehands to keep Stosur on the back foot and was ruthless when she came into the net.
The 21-year-old sealed the victory on her fourth match point when Stosur went long after 91 minutes to leave Australia's search for a first women's champion since Chris O'Neil in 1978 almost certainly destined to continue for another year.
"It's a big win but I'm keeping my feet on the ground because I know today I went on the court with no pressure, she had the pressure," said Cirstea.
"I had nothing to lose. So I think that kind of made me just go out there and enjoy it."
Stosur had spoken about how her Flushing Meadows triumph would enable her to better deal with the pressure of being the leading home hope but early exits in Brisbane and Sydney warm-up events told another tale.
"I think for sure it affects you physically," she admitted. "That's probably the easiest sign for the outside people to see.
"You tighten up, your shoulders do get tight, you don't hit through the ball.
"When anyone's nervous, I think the first thing that goes is your footwork. You don't move your feet as well. Once that breaks down, it's easy for other things to start breaking down."
The 27-year-old started well enough when Cirstea double faulted to concede her first service game but the 59th ranked Romanian matched her break for break throughout the opening set to bring up a tiebreak.
Cirstea raced away to seal it 7-2 with a thumping ace and broke again to open the second set when the Australian smacked a backhand onto the net cord and out of play.
Stosur broke back immediately but her opponent was now brimming with confidence and, despite a flutter of nerves on her first two match points, secured a second-round fixture against Pole Urszula Radwanska or American qualifier Alison Riske.
"I'm probably very close to crying, having a really awful night," said Stosur. "It's hard to suppress those emotions when it means so much to you.
"All you can do is come back next year and keep trying."
(Editing by Peter Rutherford)