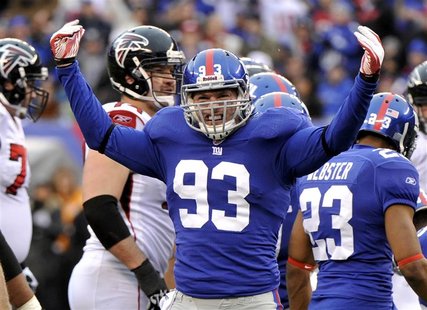 By Larry Fine
EAST RUTHERFORD, New Jersey (Reuters) - The New York Giants used a ferocious defense and a second-half scoring surge to rout the Atlanta Falcons 24-2 in the National Football League (NFL) wild card playoffs on Sunday.
The Giants, who went into intermission with a 7-2 lead, used a surprisingly strong running attack to control the ball and broke open a tight battle with two second-half touchdown strikes by quarterback Eli Manning.
"That's a big win today," Manning said. "Defense played awesome. Second half the offense finally got going. We ran the ball and started hitting some big plays, so a great win today."
Manning connected with Hakeem Nicks for a 72-yard touchdown in the third quarter and then dropped in a perfect 27-yard toss to Mario Manningham as he sprinted into the end zone to pull away from the Falcons in the fourth quarter. He also hit Nicks for a four-yard TD late in the first half.
"They won the battle of the line of scrimmage and that was one of the musts we had to accomplish and didn't get accomplished today," said Falcons coach Mike Smith.
The victory lifted the Giants to a divisional-round clash on the road against the defending Super Bowl champion Green Bay Packers (15-1) on January 15.
New York battled the then-unbeaten Packers in a tight struggle before falling 38-35 to them in December in their only regular season meeting against Green Bay.
The Giants, who ranked last in the NFL in rushing during the regular season, rediscovered their running game against Atlanta as Brandon Jacobs (92 yards) and Ahmad Bradshaw (63) gouged the Falcons on the ground. New York gained 172 yards rushing, nearly twice their regular season average.
"We're a very balanced offense," said Nicks, who gained 115 yards on six receptions. "We can run the ball when we want to. We were just clicking on all cylinders today."
New York's defense, which ranked 25th in the NFL in giving up an average of 25 points a game, continued a late-season rally launched by back-to-back, crucial season-ending wins against the New York Jets and Dallas Cowboys.
The Giants limited Atlanta to just 64 yards rushing on 21 carries, sacked Atlanta quarterback Matt Ryan twice, pressured him throughout and did not give up a point on defense.
"We played outstanding defense and that set the tone for everything else that happened in the game," said Giants coach Tom Coughlin. "If we can continue to play defense like that, we can make ourselves heard in this tournament."
'HUGE CHALLENGE'
Atlanta put their only points on the board when Manning was called for intentional grounding in the end zone while in the grasp of a blitzing James Sanders that resulted in a safety early in the second quarter.
New York went on to score 24 unanswered points.
Twice the Giants stopped Atlanta on fourth-and-one attempts by snuffing quarterback sneaks by Ryan late in the first quarter and again in the third quarter.
"It's nothing flashy, but it's as solid a bunch as anyone else in the league," defensive end Justin Tuck said about the Giants' interior defensive line.
Defensive captain Tuck said the Giants defense, revitalized by the return of injured defensive end Osi Umenyiora, linebacker Michael Boley and safety Kenny Phillips, was peaking at the right time.
"It feels good to have a good stand on defense because we are going to need it up there in Green Bay," Tuck said. "It's another huge challenge for us and we are looking forward to it."
One possible setback for the Giants defense, however, came late in the game when cornerback Aaron Ross was sidelined with a concussion after a collision with team mate Jason Pierre-Paul.
(Reporting by Larry Fine; Editing by Frank Pingue)