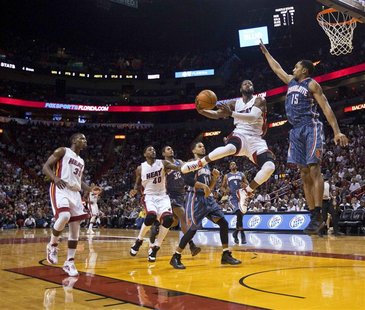 (Reuters) - The Miami Heat mauled the Charlotte Bobcats in a 129-90 blowout Sunday to improve to a franchise-best 5-0 start to an NBA season.
Needing a pair of Dwyane Wade last-second game-winners to defeat Charlotte and Minnesota in back-to-back games last week, the Heat buried the Bobcats early in the rematch.
"We came into the game with a very heightened sense of having the ability to concentrate," Heat coach Erik Spoelstra told reporters. "It speaks to our guys' professionalism."
Talent-loaded Miami built a 28-point lead by halftime to effectively kill the game as a contest in front of their home crowd.
Chris Bosh led the way with 24 points and 10 rebounds and Wade added 22 as Miami continued their impressive start to the season.
Beaten by the Dallas Mavericks in the NBA Finals last June, the Heat have exploded from the blocks at the start of the compressed 66-game campaign.
Their 129 points were an NBA-high for the fledgling season, sharing the wealth among their big-name players and compiling 33 assists for the game.
LeBron James, who entered the contest averaging 33 points per game, played just 28 minutes and chipped in 16 points, nine rebounds and five assists.
D.J. White had a team-high 21 for the Bobcats (1-3) who suffered their third straight loss and second to the Heat in four days.
Charlotte were powerless as the Heat scored the first six points of the game and breezed to an early 17-4 advantage in the first.
It only went downhill from there for the Bobcats, who shot just 38 percent from the field.
"That was a high school team in a professional game," admitted Charlotte forward Corey Maggette, who finished with two points and missed all six of his shots from the field.
Bosh controlled the early going in the paint, scoring 20 first-half points, although plenty of Miami players got in on the action.
Rookie point guard Norris Cole finished with 16 points and nine assists while the team shot 60 percent from the floor in a dominating display that sent a message to the whole league.
(Reporting by Jahmal Corner in LA; Editing by Alastair Himmer)