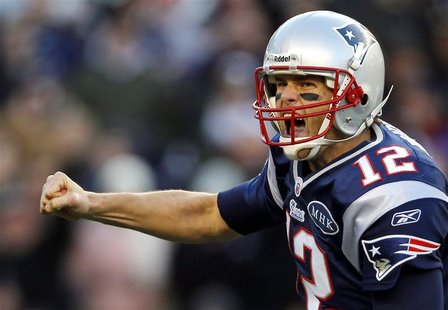 (Reuters) - Tom Brady became just the third quarterback to pass for over 5,000 yards in a National Football League season as he rallied the New England Patriots to a 49-21 win over the Buffalo Bills on Sunday that secured home-field advantage throughout the AFC playoffs.
The Patriots, already assured of a first round bye in the playoffs, knew a win would secure home-field advantage but were stunned when the Bills raced out to a 21-0 first-quarter lead.
But the Patriots (13-3) stormed back in the second half and Brady finished with 338 passing yards and three touchdowns and moved ahead of Hall of Famer Dan Marino into second place in the single-season passing record.
Last week, New Orleans Saints quarterback Drew Brees broke Marino's record of 5,084 yards, which he established in 1984.
Brady, seeking his fourth Super Bowl win with New England, ensured that his team enter the post-season riding an eight-game win streak and that he moves into the playoffs with a personal best passing year.
In typical Brady fashion, the quarterback that the team had been responsible for his yardage this season.
"Guys did a lot - catching the ball and running with it. Our passing game has been obviously a big strongpoint of this team. The pass catchers and the blockers have been great and we've run the ball great, too, at times," he told reporters.
"That's what it takes - a complementary offense. You run it and we throw it when we need to throw it and we can be effective. You have to stay balanced and those guys have done a great job all year doing stuff with it."
Home-field advantage for the Patriots, who went 7-1 on their turf this season, will help them as they look to confirm their status in the AFC and reach the NFL's title game.
"It depends how well we play. I think that's going to be the determining factor on whether we win or lose is how well we execute," said Brady.
"It's great playing at home. It's great to have a bye but I think we have to concentrate here this week on what we need to do to play our best football in a couple weeks."
(Reporting by Simon Evans in Miami; Editing by Frank Pingue)