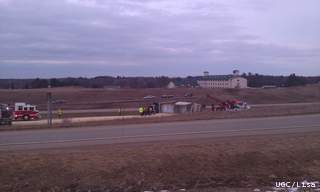 SHAWANO COUNTY, WI (WTAQ) - Part of an expressway in Shawano County was closed for three hours Thursday, while crews cleaned up 26 tons of soybean meal that spilled in a crash.
A 48-year-old Crivitz man was driving east on Highway 29 when his semi-truck rolled over and came to rest upside down – and it blocked both eastbound lanes.
Shawano County deputies said the man might have suffered a medical condition before the crash, which occurred about 3 p.m. Thursday in the town of Belle Plaine.
The driver was taken to a Shawano hospital with non-life threatening injuries.