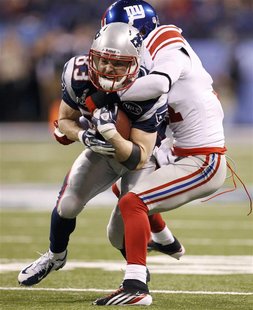 By Simon Evans
INDIANAPOLIS (Reuters) - With tears welling up in his eyes, New England Patriots receiver Wes Welker was inconsolable after dropping a crucial catch in the 21-17 loss to the New York Giants in the Super Bowl.
Welker, whose dogged spirit has symbolized the Patriots approach in recent seasons, looked distraught when he faced the media after a game in which his error was a key turning point.
The Patriots were 17-15 up with 4:06 left on the clock and on second and 11 when quarterback Tom Brady threw a 23 yard pass to a wide-open Welker, just by the Giants 20 yard line.
But the ball spilled out, New England were unable to progress, and that allowed the Giants possession which resulted in the game winning touchdown.
It wasn't a perfect pass but the normally reliable Welker knew he should have made it and was ready to take the blame.
"The ball is right there. I've just got to make the play. It's a play I've made a thousand times in practice and everything else. It comes to the biggest moment of my life and don't come up with it. It's discouraging," Welker told reporters.
"It hit me right in the hands. I mean, it's a play I never drop, I always make. The most critical situation and I let the team down.
"We work on it all the time and try to make plays. It's one that will take a while to shake off, that's for sure," he added.
But Brady said his receiver, who caught 122 passes for 1,569 yards and nine touchdowns during the regular season, shouldn't take the blame for the loss.
"I think everybody was just disappointed. You win as a team and you lose as a team. One play certainly wasn't the reason we lost today. Everybody feels like we could have done more," said Brady.
"Wes was running down the field and it looked like they messed the coverage up a little bit and I threw it to him. He went up to try and make it, as he always does, and we just couldn't connect.
"He's a hell of a player. I'll keep throwing the ball to him for as long as I possibly can. He's a phenomenal player and team mate and I love that guy."
Another Patriots receiver Deoin Branch, who was unable to collect the next pass, also defended Welker.
"That one play wasn't the end of the game. There was so much stuff that went down throughout the third and fourth quarters. All of the plays were big, every play is very important. Had I made the catch that was behind me, that could have been a key third down but we didn't connect on it," he said.
(Editing by Patrick Johnston)