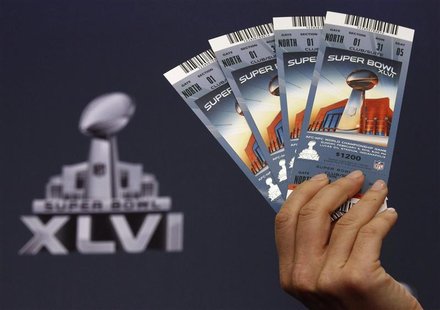 (Reuters) - Indianapolis authorities called on Super Bowl celebrants to play it safe on Saturday night at festivities near the city's football stadium, after at least 10 people were injured the previous evening.
As part of the buildup to the championship game, self-described party rock group LMFAO on Friday performed a concert in the Super Bowl Village, helping draw a crowd to the area around Lucas Oil Stadium that during the course of the day reached an estimated 150,000 people.
At least 10 people were evaluated for injuries they suffered during the festivities on Friday night, but none of the injuries were considered serious, Indianapolis Fire Department Captain Eric Hofmeister said in a statement.
From Friday morning to Saturday morning, a total of 20 people were arrested, mostly for public intoxication, the Indianapolis Department of Public Safety said in a statement.
On Saturday night, another large crowd was expected near the football stadium for a concert hosted by Rolling Stone magazine and featuring performances by Lupe Fiasco, Gym Class Heroes and others acts.
"If you want to watch the performance and you are up against the stage, create some space for yourself," the Indianapolis Department of Public Safety said in a statement.
On Sunday, the Super Bowl itself will take place, pitting the New England Patriots against the New York Giants in the annual National Football League championship.
(Reporting By Alex Dobuzinskis; Editing by Paul Thomasch)