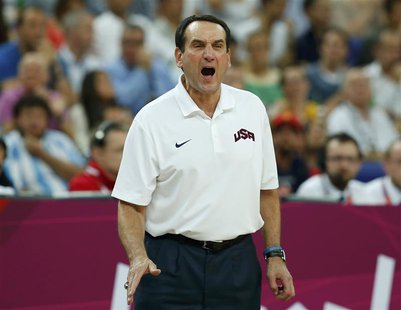 By Larry Fine
LONDON (Reuters) - U.S. men's basketball coach Mike Krzyzewski is rarely rattled by anything on the hardcourt, but a question at his post-game press conference on Friday set him off.
Krzyzewski was asked after his reigning Olympic champions had beaten Argentina 109-83 to reach another gold medal game if his talented team actually required any coaching and could perhaps just be turned loose on the court.
"None. None. You got it. Absolutely none," the 65-year-old coach answered curtly.
"I'm out every night with my family, drunk as a skunk. Wait 'til you see me tonight. I'll get in at six. You're all invited to come out with me. We just roll out the damn ball. You got it. I don't know how you figured it out."
"I'm looking forward to that," said the press conference moderator, thinking about a night of revelry.
Krzyzewski, who has compiled the most wins by any Division 1 college basketball coach and steered Duke University to four national titles, has a record of 61-1 since taking over as U.S. national coach in 2006 with an Olympic title and world championship crown on the resume.
His U.S. team will battle Spain on Sunday for London gold in a rematch of the 2008 final which the Americans won 118-107 in Beijing.
(Editing by Nigel Hunt)