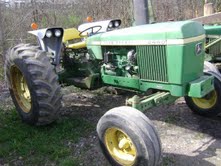 VAN BUREN COUNTY (WKZO) -- It seems like an unlikely thing to steal, but somebody must have wanted a 34 year old farm tractor.
Farmer Trevor Meachum in LawrenceTownship, and the CountySheriff's Department say farm hands left the 1978 John Deere 2440 Tractor with an 18 foot long blue flat bottom trailer in a field in the 56-thousand block of 48th Avenue at the end of Thursday.
When they came back early Friday morning, both had vanished.
Initial news reports resulted in calls about a trailer abandoned along 60th Street in Van Buren County. It was returned to the Meachum farm. The Tractor is still missing.