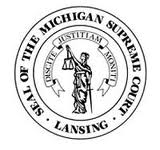 DETROIT (WKZO) -- The Michigan Supreme Court has ordered a new trial for a Detroit woman who was convicted of a felony for not being able to pay eleven-hundred dollars a month in child support.
The American Civil Liberties Union of Michigan cheered the ruling affecting Selesa Likine, whose earnings fell 500-dollars a month shy of what she had been ordered to pay. The ACLU does, however, have concerns with the ruling and said in a statement the standard used by the Supreme Court "would make it virtually impossible to prove that an individual is unable to pay."
The child support payment level had been set based on a one-time real estate commission Likine earned from her only sale in 2006, and her payments have since been dropped to 25-dollars a month.