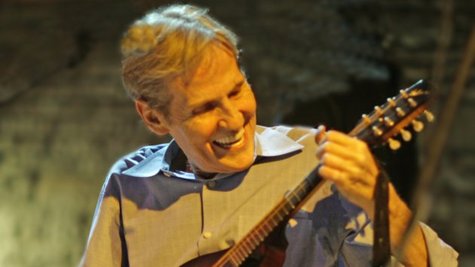 The death of Levon Helm on Thursday afternoon has inspired an outpouring of responses from the legendary Band singer/drummer's many famous musical friends, associates and fans. Bob Dylan , who hired The Band as his backing group during the 1960s and collaborated with them on a number of albums, paid tribute to Helms on his official website .
"He was my bosom buddy friend to the end, one of the last true great spirits of my or any other generation," the folk-rock icon wrote. "I still can remember the first day I met him and the last day I saw him. We go back pretty far and had been through some trials together. I'm going to miss him, as I'm sure a whole lot of others will too."
Helm's longtime fellow Band member, keyboardist Garth Hudson , posted a heartfelt message of his own, saying, "I am terribly sad. Thank you for 50 years of friendship and music. Memories that live on with us. No more sorrows, no more trouble, no more pain."
Hudson also tipped his hat to Helm's musicianship, noting, "He was Buddy Rich 's favorite rock drummer…and my friend. Levon, I am proud of you."
Other artists took to Twitter to post homages to Helm:
The surviving Doors and their management team: "Levon Helm helped define the sound of the '60s as a member of The Band, The Hawks, and as a solo artist, and heavily influenced the sound of what we now know as 'Americana Music.' Songs like 'The Weight' and 'The Night They Drove Old Dixie Down' will forever remain classics of the rock and roll canon."
Three Dog Night : "RIP Levon Helm, an amazing drummer and singer. We are fans of The Band. We recorded 'Chest Fever' on our debut album."
Joe Walsh , who played with Helm in Ringo Starr 's All Starr Band : "RIP Levon Helm -- my brother. Thank you for the love, the music and all our memories."
Foreigner singer Kelly Hansen : "I'm crushed, Levon Helm is gone. If u don't know him, google him. U took a load off all of us with your giant soul. R.I.P."
Copyright 2012 ABC News Radio