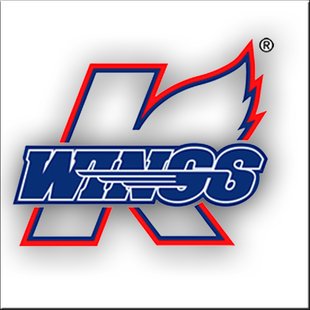 CHARLESTON, SC (WKZO) – The Kalamazoo Wings trailed 30-23 in shots-on-goal in Wednesday night's Game 3 of the best-of-seven Eastern Conference Semifinals to the South Carolina Stingrays. Riley Gill shut the Rays out, helping Kalamazoo to a 3-0 win. The Wings have a strangle hold on the series, going up 3-0 with Game 4 slated for Friday.
The K-Wings were efficient, scoring on two of their first four shots of the night in the opening period. Nick Sirota continued his tear through the postseason, putting the Wings on the board at the 2:44 mark of the first frame. Sirota has scored in each of the last three games. 51 seconds later, Justin Taylor wristed a shot to the high slot, recording his second goal of the playoffs. Trent Daavettila added an empty net score with 5:07 left in the game to seal the win.
Riley Gill improves his playoff record to 6-1. The shutout was Gill's first in the postseason, and only the second for the K-Wings since joining the ECHL. The decisive Game 4 is Friday night in South Carolina. If necessary, Game 5 will be in Kalamazoo on Tuesday, April 24th.