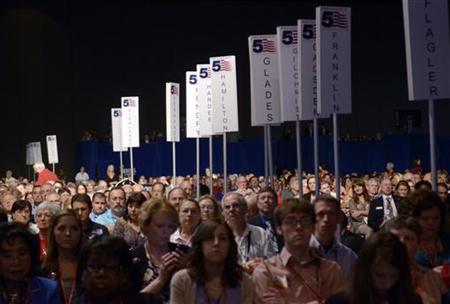 By Jane Sutton
MIAMI (Reuters) - Florida is expected to set its U.S. presidential primary election for January 31, setting off a game of leapfrog as various states try to increase their influence by moving ahead in the nominating process, state officials said on Wednesday.
The date will not become final until Florida's date selection committee meets in Tallahassee on Friday.
But the governor, the Florida Senate president and the speaker of the Florida House of Representatives -- who appointed the nine-member date selection committee -- have asked for the January 31 date, a spokeswoman for House Speaker Dean Cannon said.
"The three principals shared a goal of Florida being early in the process. Speaker Cannon felt that January 31 would preserve that," said Katie Betta, Cannon's spokeswoman.
That means the four states authorized by the Republican National Committee to go first would almost certainly move up their primary elections and caucuses.
In the process of choosing the presidential nominees fielded by the two major political parties, candidates compete in primary elections or other contests in the U.S. states to win delegates who ultimately will pick the nominees in later party conventions.
Iowa, New Hampshire, Nevada and South Carolina are authorized by the party to kick off the contests that will eventually produce a Republican nominee to challenge President Barack Obama in the November 2012 election. Those states had planned on holding their contests in February.
Florida is a large and diverse state with nine major television markets, making it a very expensive place to campaign. If Florida succeeds in grabbing the fifth-place spot in the primaries, the candidates could be forced to spend a lot more money a lot earlier than they expected.
As it stands now, the Iowa caucuses are set for February 6, the New Hampshire primary for February 14, the Nevada caucuses for February 18 and the South Carolina primary for February 28.
But those dates will almost certainly move forward. In the last presidential election in 2008, Iowa and New Hampshire moved their contests to early January to stay ahead of states that jumped the line.
"We'll wait to see what Florida ultimately does on Friday, but the one thing that Iowans need to know is that we will be first," Iowa Republican Party Chairman Matt Strawn said on Wednesday.
HOLIDAY CAMPAIGNING
All states must notify the Republican National Committee on Saturday what dates they have chosen.
"We continue to work with all the states to attempt to get them into compliance with the party rules," Committee Chairman Sean Spicer said. "The final plans are due on October 1 and any state that is not in compliance will lose 50 percent of their delegates,"
The loss of delegates to the party nominating convention would be awkward for Florida, since it will be the host for the national convention in Tampa in August.
Florida could still set its election even earlier than January 31 if other states pick earlier dates before the Saturday deadline.
"The law does provide for flexibility if we need to make another decision," Betta said.
Already, Arizona has scheduled a February 18 primary and Colorado and Missouri have indicated they want to move forward on the calendar as well.
Incumbent Obama does not face a challenger for the Democratic presidential nomination but candidates for other offices will also be affected by moving up the election dates.
New Hampshire Democratic Party Chair Ray Buckley said it was "appalling" that Republican leaders in other states were ignoring the agreed-upon dates and pushing the election closer to the winter holidays.
"Now, New Hampshire voters will undoubtedly be hounded by Republican presidential wannabes as they try to spend time with their families this winter," Buckley said.
(Additional reporting by Kay Henderson in Des Moines, Ros Krasny in Boston and Steve Holland in Washington; Editing by Bill Trott)