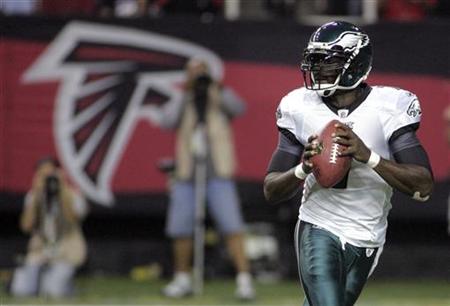 (Reuters) - The Philadelphia Eagles have refused to speculate on when quarterback Michael Vick will return to the lineup after he suffered a concussion during Sunday's NFL loss to the Atlanta Falcons.
The Eagles' head trainer Rick Burkholder told a news conference on Monday that Vick had felt fine during the team's flight home but would undergo further medical tests before a decision was made on when he would play again.
"That's foolish on our part medically to put (a) timeframe out there," Burkholder said.
"We're going to go through out protocol and when Mike's ready to practice, I'm going to turn him over to coach (Andy Reid) and he's going to make a decision whether he's ready to play."
Vick, playing against his former team, left the game during the third quarter after being spun around by an opposing player.
His head slammed into a team mate and he bit his own tongue and was seen spitting blood as he walked off the field.
Burkholder said Vick seemed "absolutely fine" on the plane home but would still see an independent neurologist and have an MRI scan before any decisions about his return could be made.
"There's a lot that's got to go on between now and then to make that decision," Burkholder said.
"We have a protocol; We're going to follow it. I'm not going to be back up here tomorrow and tell you that he's cleared, that's for sure."
The Eagles were leading 24-21 when Vick left the field and went on to lose 35-31. Their next game is against the New York Giants at home on Sunday.
(Reporting by Frank Pingue in Toronto; Editing by Julian Linden)