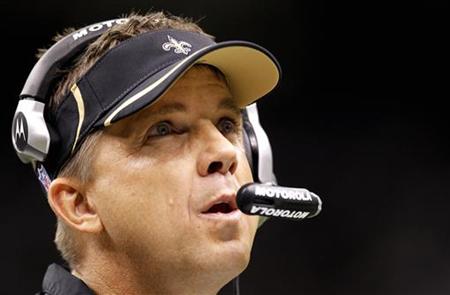 NEW ORLEANS (Reuters) - New Orleans Saints head coach Sean Payton has agreed a three-year contract extension that will keep him with the National Football League team until 2015, the club said on Monday.
Payton, 47, guided the Saints to the first ever Super Bowl triumph at the end of the 2009 season having turned-around the once struggling franchise, taking them to the playoffs three times in five years.
"I am very pleased to announce this contract extension today for Sean that will run through the 2015 season," said Saints owner Tom Benson in a statement.
"Our goal is to continue to build a tradition of winning here in New Orleans and Sean represents that tradition."
Before Payton joined the Saints, after working as assistant head coach at the Dallas Cowboys, the New Orleans team had only made one post-season since they entered the league in 1967.
Payton has a close relationship with quarterback Drew Brees, the pair having worked together throughout the last five years.
Brees, who is in the final year of his six-year deal with the Saints, has also been in discussions with the club over an extension.
The Saints kick-off the new NFL season at Super Bowl champions the Green Bay Packers on Thursday.
(Reporting by Simon Evans in Miami; Editing by Pritha Sarkar)