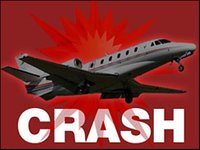 HOLLAND (WKZO/WHTC) -- For the second time in a month, a private pilot in a home-built plane has been killed in a crash in West Michigan.
Holland Police Sgt. Joe Torres said the owner/pilot of the plane, a man from Gobles, was found dead in the wreckage just before 7 Thursday evening.
He was practicing so-called "touch and go" landings from the east to the west and crashed just short of the runway. That means the setting sun would have been shining directly through his windshield at that time of day.
The plane's owner is listed as 60-year-old Gerald Brinkerhoff of Gobles, and the plane is registered as a single engine experimental Q-200.
Tulip City Airport was closed overnight and flights diverted.
It was just two weeks ago 73-year-old Bill Beswick left Tulip City airport and died on impact after he clipped a semi on U.S. 131 as he approached Plainwell Municipal Airport for landing.
The FAA is now investigating both crashes.