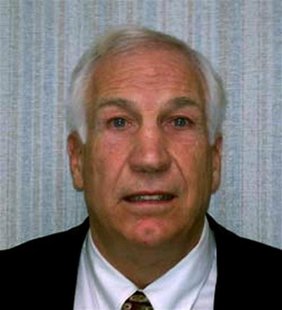 By Dave Warner
PHILADELPHIA (Reuters) - A new accuser filed the first lawsuit against former Penn State assistant football coach Jerry Sandusky on Wednesday, accusing the coach of sexually abusing him "over 100 times" as a child,
A 29-year-old man identified only as "John Doe A" launched the lawsuit in Philadelphia Common Pleas Court against Sandusky, Penn State University and The Second Mile, a charity founded by Sandusky to help troubled children.
Although the man is the ninth alleged victim to accuse Sandusky of abuse, the lawsuit is the first filed in the scandal. Legal experts said it may trigger a cascade of lawsuits and may encourage other victims to contact police.
Sandusky said in a television interview this month that he was innocent and was not a pedophile.
The accuser, who is now speaking with law enforcement, said he suffered four years of abuse, starting at age 10, "in the facilities of Penn State, particularly the football coach's locker room, at times within Philadelphia County, at facilities out of state connected with a Penn State bowl game and at the Sandusky home," according to the lawsuit.
He met Sandusky through a program at The Second Mile, said his attorney Jeff Anderson, from St. Paul, Minnesota. Anderson also represents sex abuse victims suing the Archdiocese of Philadelphia.
"This case is about institutional concealment and callous disregard of child abuse by powerful men in a powerful institution," said lawyer Marci Hamilton at a news conference to unveil the lawsuit.
Sandusky "recruited, groomed and coerced plaintiff, showering him with gifts, travel and privileges," the lawsuit said.
Threats by Sandusky against the alleged victim and his family bought years of silence, broken only when the alleged victim saw national headlines that Sandusky was charged this month with sexually abusing eight other men when they were juveniles.
"I never told anybody what he did to me over 100 times at all kinds of places until the newspapers reported that he had abused other kids and the people at Penn State and Second Mile didn't do the things they should have to protect me and the other kids," wrote the man, who no longer lives in Pennsylvania.
The man, in his note, said it was painful to learn of the other alleged victims that came after him.
"I am hurting and have been for a long time because of what happened but feel now even more tormented that I have learned so many other kids were abused after me," the man wrote.
The Second Mile said it would review the lawsuit and then respond as it saw fit.
"The Second Mile will adhere to its legal responsibilities throughout this process. As always, our thoughts and prayers are with the victims and their families," the charity said.
Sandusky's lawyer, Joe Amendola, was not immediately available to comment. A spokeswoman for Penn State declined to comment.
Anderson said the alleged victim felt Sandusky, who is free on $100,000 bail, should be confined immediately.
In the wake of the Penn State scandal, allegations of sexual abuse have been made against an assistant basketball coach at Syracuse University, Bernie Fine, who was fired on Sunday.
Fine has been named by three men who say he sexually fondled them as juveniles. Unlike Penn State, no charges have been filed against Fine, and a grand jury has just begun looking into the accusations.
The Penn State lawsuit seeks more than $50,000 in damages, a standard amount in Pennsylvania courts to trigger a jury trial.
It seeks compensation for the victim's suffering including "great pain of mind and body, shock, emotional distress, physical manifestations of emotional distress, embarrassment, loss of self esteem, disgrace, humiliation and loss of enjoyment of life."
(Additional reporting by Ian Simpson in Washington, editing by Barbara Goldberg and Greg McCune)