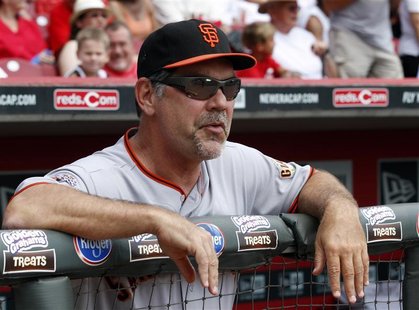 (Reuters) - The San Francisco Giants, one year removed from their World Series triumph, kept their baseball brain trust intact by extending the contracts of manager Bruce Bochy and general manager Brian Sabean, the team said Tuesday.
Bochy and Sabean were extended through 2013 with club options for 2014.
Bochy, who managed the San Diego Padres for 12 years prior to joining the Giants in 2007, will be entering his 18th consecutive campaign as a manager -- more than any of his counterparts, now that St. Louis' Tony La Russa has retired.
Sabean, entering his 16th season in his position, is the longest tenured active GM in Major League Baseball.
"Brian and Bruce are certainly two of the finest professionals at their respective positions in all of baseball," Giants president Larry Baer said in a statement.
"They have effectively built and fostered a winning tradition at all levels of our organization."
Sabean and Bochy steered the Giants to a World Series triumph in 2010, the team's lone title since the franchise moved to San Francisco in 1958.
(Reporting by Larry Fine in New York, Editing by Frank Pingue)