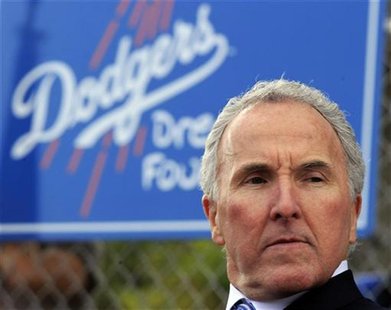 (Reuters) - Fox Sports stepped up its battle with Frank McCourt, the owner of the Los Angeles Dodgers, saying he needed to "get out of the way" and let the bankrupt team return to the business of baseball.
Fox, which broadcasts Dodgers games, has vigorously opposed the team's plan to sell its future media rights earlier than expected as part of a plan to auction the team and exit bankruptcy.
In documents filed on Thursday, Fox asked Delaware's bankruptcy court to reject the team's request to sell its future broadcast rights, saying such a sale was unnecessary to bring the team out of Chapter 11.
"Moreover, Mr. McCourt is not necessary to this process. He should get out of the way and let everyone return to the business of baseball," said Fox in court papers.
Fox, a unit of News Corp, also said that for the Dodgers to maximize the value of the team, they should include the land under the Dodger Stadium in the team's sale.
McCourt, who made his fortune on real estate, owns the land through a company that is not part of the bankruptcy.
The Dodgers said in a statement on Thursday that recognizing the full value of the future media rights in conjunction with the sale of the team would be in the best interests of the team, fans and Major League Baseball.
"The fact that Fox thinks it should now opine on real estate is just plain foolish," said the statement.
The Dodgers filed for bankruptcy in June shortly after baseball's commissioner, Bud Selig, rejected a plan by the team to sell the future media rights to Fox for a reported $3 billion.
Baseball and McCourt spent months battling for control of the team. Earlier this month, McCourt agreed to sell the team and baseball agreed to allow the sale of the media rights.
Fox and the Dodgers have been ordered by the court to try to settle their dispute through mediation that is scheduled to begin Monday in Los Angeles, where Fox is based.
The team sales process is expected to be wrapped up by the end of April, in time for the start of the 2012 Major League season, sources familiar with the process have told Reuters.
The case is In re: Los Angeles Dodgers LLC, U.S. Bankruptcy Court, District of Delaware, No. 11-12010.
(Reporting by Tom Hals in Wilmington, Delaware and Sue Zeidler in Los Angeles, editing by Gerald E. McCormick)