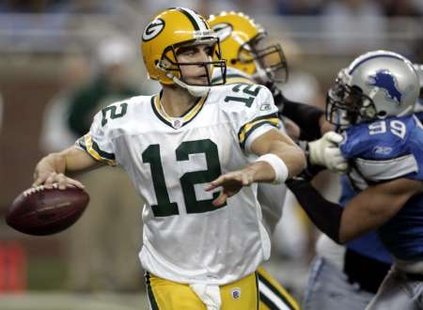 DETROIT (WKZO) -- The 7-3 Detroit Lions and 10-0 Green Bay Packers are facing off in the 72nd Thanksgiving day game. Coverage will be provided throughout the game.
1st Quarter:
Lions 1st possession:
Matthew Stafford missed a wide open Calvin Johnson on 3rd down and a holding penalty negated a 16-yard-run by Kevin Smith to end the Lions hopes of a fast start in this one. The Packers take over at their own 22-yard-line after a 29-yard-punt by Ben Graham.
Packers 1st possession:
After a strong start the Packers fail to convert on a 3rd down and 2 from the Lions 43-yard-line. The Lions take over at their 15-yard-line.
Lions 2nd possession:
The Lions drove beyond the Packers 39 but failed to convert after 2 holding penalties set them back on the drive. The Packers will take over 1st down and 10 on the Green Bay 20-yard-line.
Packers 2nd possession:
Packers go 3-and-out after a 1-yard James Starks loss, an 8-yard Jordy Nelson reception and a 2-yard Greg Jennings reception. The Lions will take over at their own 16-yard-line.
Lions 3rd possession:
Stafford rushes for a career-long 22-yards. Nate Burleson goes for 11 yards on reverse. Penalties continue to hurt the Lions. A 15-yard personal foul on a chop block sets the Lions back to their own 42. Stafford hits Pettigrew for a 10-yard-gain on 2nd down but fails to complete a screen on 3rd down. The Packers take over on their own 15-yard-line.
Packers 3rd possession:
The Packers appeared to be headed to the end zone after a 25-yard pass-play but it was reversed following a holding call. The Lions stepped up several plays later as they defending a deep Aaron Rodgers pass on 3rd down and 1. The Lions take over possession at their own 20-yard-line.
Lions 4th possession:
Staffords pass is intercepted by Clay Matthews. The Packers take over at the Lions 13-yard-line.
Packers 4th possession:
Greg Jennings interfered with in the end zone. Ball placed at 1-yard-line of the Lions. Packers driven back to the Lions 4 on a 3-yard-loss. Aaron Rodgers hits Greg Jennings for a 3-yard-touchdown pass. The Lions now trail the Packers 7-0 with 4:51 remaining in the 1st half.
Lions 5th possession:
Stafford's pass is nearly intercepted by falls incomplete on 1st down. Stafford hits Maurice Morris for a gain of 3 yards out to the Lions 24-yard-line. Stafford hits Calvin Johnson for a gain of 23 yards on 3rd down and 7 to bring the Lions to their own 47.
Maurice Morris is brought down after a gain of 9-yards to the Packers 44-yard-line. Morris carries again on 2nd down and gains 7 to give the Lions a first-down. Keland Williams gains 3 yards on 1st down.
Tony Scheffler catches a 5-yard-pass from Matthew Stafford to bring up 3rd down and 2. Pass to Calvin Johnson in the end zone is incomplete. Jason Hanson misses a 47-yard-field goal.
Packers 5th possession:
Packers go 3-and-out following offsetting pass interference and roughing the passer penalties.
Lions 6th possession:
Lions content to run out the clock on the 1st half. 2 completions before time runs out.
Packers 6th possession: (1st possession of 2nd half)
Illegal formation on Packers sets them back to 1st down and 15 on the Packers 44. Rodgers hits Jordy Nelson for a gain of 1-yard. Rodgers hits Donald Drive on 2nd down for a gain of 15-yards into Detroit territory at the Lions 40. Packers are driving now as Rodgers hits Greg Jennings for a gain of 19 yards to bring the Packers to the Lions 21-yard-line.
False start penalty moves Packers back 5 yards to the Lions 26-yard-line. Rodgers hits Greg Jennings for a completion of 19 yards down to the Lions 7-yard-line.
The Lions Ndamakong Suh has been kicked out of the game for 'kicking'.
John Kuhn scores on a 1-yard-touchdown run. Packers 14 Lions 0. Note: Ndamakong Suh was penalized 15-yards on a personal foul for kicking following the Lions making a 3rd down and 1 stop on the Packers. The penalty allowed the drive to continue.
Lions 7th possession:
Stafford throws a pick from his own 49-yard-line. Pass intercepted at Packers 33 yard line.
Packers 7th possession:
The Packers are beginning to open it up now. Rodgers hits Jones on a 65-yard-touchdown pass to extend the Packers lead to 21-0.
Lions 8th possession:
Stafford intercepted by Charles Woodson.
Packers 8th possession:
Packers extend lead to 24-0 in the 3rd quarter.
Lions 9th possesion:
Keland Williams scores on a 16-yard-TD run. Lions now trail 24-8 after a 2-point-conversion.
Video interviews, full recap and more to follow the Lions 27-15 loss.