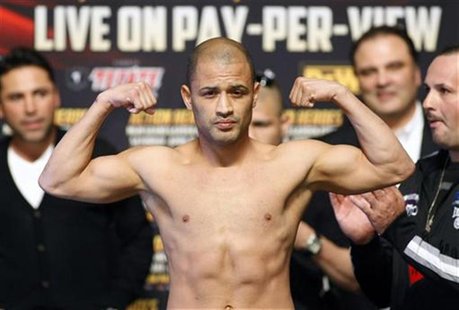 (Reuters) - The eagerly-awaited rematch between Miguel Cotto of Puerto Rico and Mexico's Antonio Margarito will go ahead as planned in New York next month after officials finally gave the go ahead for the world title fight to proceed.
The super welterwight bout, scheduled to take place at Madison Square Garden on December 3, was in doubt after the New York State Athletic Commission raised questions about the health of Margarito, who suffered a serious eye injury that required surgery in his loss to Manny Pacquiao last year.
The Commission rejected Margarito's initial application to fight Cotto but agreed to let him undergo further medical examinations by an eye specialist of their choice.
On Tuesday, the Commission reviewed their decision and agreed to grant a boxing license to the Mexican.
Had the Commission refused to let the fight proceed, the promoters were considering moving it to another American state although Cotto caught them by surprise when he told reporters he wasn't going anywhere else.
"I'm not going to present myself in any other state," Cotto, the WBA super welterweight champion, said on a conference call.
"If the people from the New York commission said that Margarito is not able to fight because of his eye, then (everybody) has to respect that and any commission in the U.S. has to respect that."
Margarito, 33, defeated Cotto in their first meeting in 2008 with an 11th round knockout.
(Reporting by Gene Cherry in Salvo, North Carolina; Editing by Julian Linden; To query or comment on this story email sportsfeedback@thomsonreuters.com)