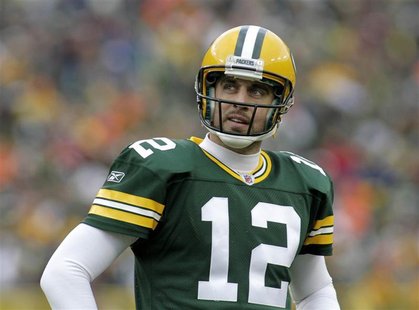 By Simon Evans
(Reuters) - The Green Bay Packers, undefeated and looking like a good bet for a second straight Super Bowl title, hope to avoid a repeat of a very different kind when they visit the Detroit Lions Thursday for a Thanksgiving Day clash of division rivals.
The last undefeated team to play on Thanksgiving Day was in 1962 when the defending National Football League (NFL) champion Packers went to Detroit and suffered a shock defeat.
Although Detroit are 7-3, a loss for coach Mike McCarthy's Packers would still rank as an upset given that Green Bay are riding a 16-game win streak that includes last season's Super Bowl triumph over the Pittsburgh Steelers.
Packers quarterback Aaron Rodgers is the first NFL player to post a 100-plus rating in 10 straight games in a season and with a receiver corps in outstanding form, the Lions defense will have to produce something special to stop Green Bay.
"The Packers are going to be a tough team to beat," said former Lion Roger Brown, who played defensive tackle on the 1962 team.
"But if I went out and made a prediction I would say that the young kids with the Detroit Lions are going to try and prove that they were better than the '62 contingent. I would say the Packers need to look out for them."
Current Lions defensive tackle Ndamukong Suh, taken second overall in the 2010 NFL Draft by Detroit, believes his team has what it takes to end Green Bay's hopes of a perfect season.
"I don't see them as a golden-perfect team. Everybody has flaws in this league, but everybody has great things they do," Suh said this week. "It's just a matter of eliminating mistakes on our time and on our team and causing them to make as many mistakes as possible."
The Lions beat the Packers in their last meeting nearly a year ago that ended a 10-game losing streak to their NFC North division rivals and Thursday's game marks the 20th time the two teams will have met on Thanksgiving Day.
Also Thursday, the Miami Dolphins, on a mini-revival run of three straight wins after losing their opening seven games, visit a Dallas Cowboys team who are seeking a fourth-straight win to remain atop the NFC East.
The Harbaugh brothers will probably not have time to share turkey dinner Thursday as John's AFC North-leading Baltimore Ravens host Jim's NFC West-leading San Francisco 49ers in the first meeting between head-coaching brothers in the NFL.
The 49ers' season is widely considered more impressive than the Ravens' campaign since their coach is in his first year in the NFL and took over a San Francisco team that went 6-10 last year and has not made the playoffs since the 2002 season.
Sunday's action includes the New England Patriots (7-3) at the Philadelphia Eagles (4-6) while Monday, Eli Manning and the New York Giants (6-4) visit the New Orleans Saints (7-3).
(Reporting by Simon Evans in Miami; Editing by Frank Pingue)