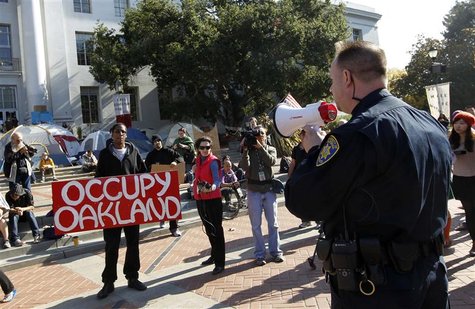 By Laird Harrison
SAN FRANCISCO (Reuters) - Police at the University of California at Berkeley swept away a protest encampment early on Thursday as anti-Wall Street demonstrators occupying a plaza across the bay in San Francisco braced for possible eviction.
Hundreds of miles to the south, their counterparts in Los Angeles sought to draw attention to their cause by marching through the city's financial district, blocking a downtown street to snarl morning rush-hour traffic and briefly pitching tents outside a Bank of America office tower.
Nearly 80 Los Angeles protesters in all were arrested during a day of demonstrations as throngs of protesters in several U.S. cities took to the streets in actions seen as a test of the momentum of the Occupy Wall Street movement.
In New York City, where the movement originated in late September as a protest against financial corruption, high unemployment and economic inequality, at least 177 activists were taken into custody.
In the San Francisco Bay area, the fulcrum of anti-Wall Street protests on the West Coast, attention focused on rising friction between protesters seeking to retain the small patches of ground they have occupied for weeks and city officials intent on pushing them out.
"Tensions are very high," said Carlos Saavedra an Occupy participant, who had attended an inconclusive meeting with the city officials on Wednesday. "The mayor seems to have made up his mind to crack down on Occupy."
In the nearby Occupy hotspot of Oakland, where police twice clashed with protesters in recent weeks before finally forcing them from a downtown square, organizers called for a "mass day of action" on Saturday to establish a new foothold elsewhere.
Next door at UC Berkeley, police moved in before dawn to a plaza where 5,000 students and other protesters rallied two nights before and told occupants to remove tents from the site famed as the birthplace of the 1960s "Free Speech Movement."
Bleery-eyed demonstrators offered no resistance, and their makeshift campground, along with sculptures, pianos, sofas and other gear, was cleared away peacefully. A campus police spokesman, Lieutenant Alex Yao, said two people were arrested.
"The majority of the demonstrators left voluntarily," Yao said. "Two demonstrators expressed interest in being arrested. They were arrested peacefully and without resistance."
The uneventful eviction of the "Occupy Cal Encampment" contrasted sharply with a scene last week when campus police wielding batons fought through a human chain to clear a similar group from the same plaza.
JITTERS BY THE BAY
Across the bay, jitters grew as the campers in San Francisco sent out frantic Twitter messages such as: "Raid imminent TONIGHT ... defend occupy!", after talks between Mayor Ed Lee and protesters broke off without an agreement.
Mayor's office spokeswoman Christine Falvey said city officials considered the encampment in Justin Herman Plaza and a smaller nearby compound adjacent to the Federal Reserve building to be illegal. About 90 tents stand in the plaza.
But she said the mayor had offered to allow the camp to remain temporarily if the demonstrators adhered to nonnegotiable rules, including a cap on the number of tents. She did not specify the proposed limit.
"The mayor supports the message and the groups' First Amendment rights," she said. "The discussion was about how to support the group in meeting its goals while still maintaining health and safety at the site and not draining the city's resources."
Saavedra, who had attended the meeting with the mayor, told Reuters the Occupy group was doing its best to comply with various city demands, even dismantling some structures municipal officials identified as dangerous.
The San Francisco Labor Council donated funds to clean 12 portable toilets at the site, and "our kitchen got essentially gold star rating" from public health officials, Saavedra said.
Most challenging, he said, was a demand for campers to maintain a buffer of 2 feet between tents and 4 feet in front, a limitation hard to meet as the camp swelled to 300 people.
"Occupy has been very compliant with the mayor's demands ... Basically (the mayor) is looking for reasons to shut us down," he said, adding that another complaint has been a supposed flea infestation.
Despite nervousness about a possible police crackdown, the camp mood was festive. Drummers beat out a steady rhythm while a banjo player chimed in and a dancer twirled and jumped.
Nearby, labor organizers affiliated with the movement called for better wages in English, Spanish, Tagalog and Cantonese. "End wage theft," their banners said. "The system has got to die," they chanted.
A spokesman for the city police, Sergeant Michael Andraychak, said city and police officials were "trying to reach agreements with the folks involved," adding, "there's no change with respect to what we're doing Justin Herman Plaza."
Elsewhere on the West Coast, hundreds of Occupy demonstrators in Portland, Oregon, gathered on a major bridge and later massed in front of a Chase bank branch downtown. Police arrested at least 30 people.
In Seattle, about 600 protesters converged in an early evening "Jobs Not Cuts" rally on a bridge spanning near the University of Washington, causing a 2-mile traffic backup during the city's raining rush hour.
Police in Las Vegas arrested 21 protesters who sat down in the street outside a federal courthouse after they ignored warnings to leave.
In the Midwest, police arrested 46 people who blocked traffic on a major bridge in downtown Chicago. In Milwaukee, Wisconsin, dozens of protesters crowded onto a bridge spanning Interstate 43, clogging traffic for about three hours. But there were no immediate reports of arrests.
(Writing by Steve Gorman; Additional reporting by Alex Dobuzinskis, Teresa Carson and Laura L. Myers. Editing by Cynthia Johnston)