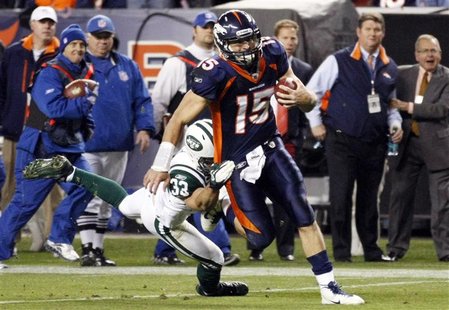 (Reuters) - Broncos rookie quarterback Tim Tebow bulldozed his way into the end zone for a last-minute touchdown to give Denver a 17-13 win over the New York Jets on Thursday.
Tebow eluded a Jets blitz on third down and rumbled 20 yards for the score to complete a 12-play, 95-yard game-winning drive.
"I like winning but I wish it wasn't quite that stressful," Tebow told reporters.
The Broncos have now won four of five games since Tebow took over from Kyle Orton as starting quarterback, improving to 5-5 and keeping the pressure on AFC West leaders Oakland.
On the decisive drive Tebow ran for 57 yards and completed three of five passes, including a key 18 yard strike to Dante Rosario, to move Denver into field goal range. Tebow finished the game 9-of-20 passing for 104 yards and ran for 68 yards.
He led the Broncos to victory over Kansas in the previous game despite completing just two of eight passes.
"When you look at how people play in this league, and how teams normally win, and you don't do it that way, people are going to talk about it and criticize it," Broncos cornerback Champ Bailey said.
"But at the end of the day it's about winning, and if it works, keep doing it."
The Jets slipped to 5-5 with their second loss, denting their chances of catching New England at the top of the AFC East. They are also behind Buffalo in the division.
"Our playoffs start next week," Jets head coach Rex Ryan said, "and we better find a way to beat Buffalo."
An exchange of field goals marked the only scoring in the first half, but the visiting Jets went 10-3 up after scoring on the first drive of the second half, Matt Slauson pouncing on a fumble by team mate Bilal Powell and crossing the line.
However, the Broncos got back on level terms when Andre Goodman intercepted a pass by Jets quarterback Mark Sanchez and returned it for a touchdown.
Nick Folk put the Jets back in front with a 45 yard field goal before Tebow's touchdown sealed the game for Denver.
"He shocked me," Jets cornerback Darrelle Revis said of Tebow. "He probably shocked a lot of people, but he did it. I'm just shocked now."
(Reporting by Mike Mouat in Windsor, Ontario; Editing by Peter Rutherford)