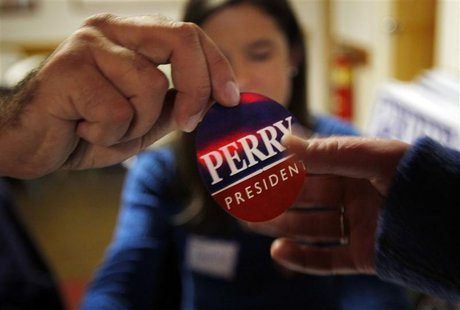 By Jason McLure
NASHUA, New Hampshire (Reuters) - Republican Rick Perry sought on Wednesday to boost his lagging presidential campaign by sounding a populist note in New Hampshire.
Perry offered criticism of large banks and federal judges as he sought to cast himself as an outsider who could reform Washington.
"While Main Street's been struggling, the cash has still been flowing to Wall Street financiers and Beltway profiteers," Perry said at a town hall meeting in Nashua. "My career has been outside of Washington, always."
Perry placed sixth among Republicans in the key early primary state of New Hampshire in a poll released on Wednesday by Bloomberg News, with just 3 percent support. As recently as late September he was running second.
The same poll showed Perry in fifth place in Iowa, where he was once considered the frontrunner.
The Texas governor's popularity has dropped sharply in polls after a series of poor debate performances.
Since then he has issued a plan to cut Congressional salaries and work hours in an effort to make the legislative branch a "part-time" institution, and called for major reforms to the federal judiciary.
"There are too many federal judges with impunity who are ruling from the bench," he said. "I think we need to start by stopping those lifetime appointments to our federal bench of those unelected federal judges."
Perry avoided serious gaffes at three campaign stops, although he did refer to Democrat Representative Steny Hoyer, the House minority whip, as "the majority whip."
He also defended himself from criticism that his debate performances show he is ill-equipped to mount an effective challenge to President Barack Obama in a general election.
"I don't think the next Republican nominee is going to get picked on who can debate or who can't debate or who's the best debater or who's the slickest debater," Perry said.
"It's going to be decided by American people who are really fed up with what this administration has done and (want) someone who can articulate strongly and powerfully an alternative vision."
Heather Murch, a 44-year-old Nashua homemaker who home-schools her children, said she was torn between supporting Perry and former House Speaker Newt Gingrich, but liked Perry because of his record as Texas governor.
"A good debate does not a good executive make," she said. "A high IQ does not necessarily make a good president. I'll take a C student from Texas A&M whose done a bang-up job in his state," Murch said.
(Reporting by Jason McLure'; Editing by Ros Krasny and Jerry Norton)