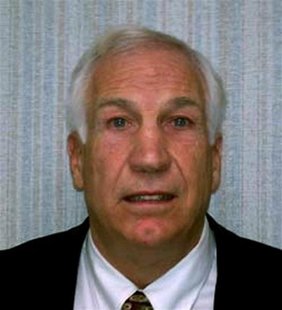 By James B. Kelleher and Ernest Scheyder
STATE COLLEGE, Pennsylvania (Reuters) - A senior district judge with no known ties to Penn State University has been named to preside over a hearing for accused child molester and former assistant football coach Jerry Sandusky, authorities said Wednesday.
Earlier, the university named a member of its board of trustees, and a former standout football player, as athletic director.
The move to appoint Judge Robert E. Scott, 74, follows a request from the common pleas court in Center County for an out-of-county assignment in a case where many of the protagonists seem to have links to the university or the town of State College.
Scott is a veteran judge from Westmoreland County, more than 100 miles southwest of Center County. A jurist since 1964, he is retired but still available to hear cases.
"He has no known connections with the Pennsylvania State University, the Second Mile Charity, nor any officers or representatives of any of those entities," the administrative office of Pennsylvania Courts said in a statement.
Sandusky founded The Second Mile, a group for at-risk youth, in 1977 and is alleged to have met all his victims through the charity's activities.
Leslie Dutchcot, the original judge was replaced after she allowed Sandusky to go free on a $100,000 unrestricted bond after his arrest on November 5 after it emerged that she had donated to The Second Mile and volunteered for the group, according to media reports.
The preliminary hearing for Sandusky, who has been charged with sexually abusing eight boys over a 15-year period, is scheduled for December 7.
Penn State said Sandusky is "not welcome" on campus although the university so far has no legal recourse to keep him away.
The university announced that David Joyner, a graduate of Penn State and a member of its board of trustees will take over responsibility for the athletic department, which has been rocked by the allegations against Sandusky.
Joyner replaces Mark Sherburne, who briefly filled the role after Penn State forced out the previous athletic director, Tim Curley, and senior vice president for finance and business Gary Schultz with failing to tell police about Sandusky's alleged abuse. Both have professed their innocence, as has Sandusky.
Joyner is a member of the All-Time Nittany Lion football team and wrestled for Penn State. He has specialized in sports medicine and was head doctor to the U.S. teams at the 1992 Winter Olympics, the 1991 World University Games and the 1989 U.S. Olympic Festival, the university said.
In her bail ruling, Judge Dutchcot ordered Sandusky not to have any contact with minors, witnesses or alleged victims.
The ruling placed no restrictions on travel. Sandusky's lawyer, Joe Amendola, told CNN he had advised Sandusky and his wife to take a trip before the next legal proceeding to clear his head.
Sandusky, who retired from Penn State in 1999 and receives a pension from the state, is free to return to campus, something school officials are powerless to stop.
"Our legal counsel informed Jerry Sandusky that he is not welcome on our campus," Penn State spokeswoman AnneMarie Mountz said in an e-mail to Reuters Wednesday.
A grand jury report detailing the accusations said that a graduate assistant with the football team witnessed Sandusky assaulting a boy in the team's showers in 2002.
Sandusky professed his innocence Monday, saying he is not a pedophile, but admitting he showered with young boys.
(Reporting by James B. Kelleher and Ernest Schreyder, writing by Ros Krasny; editing by Chris Wilson)