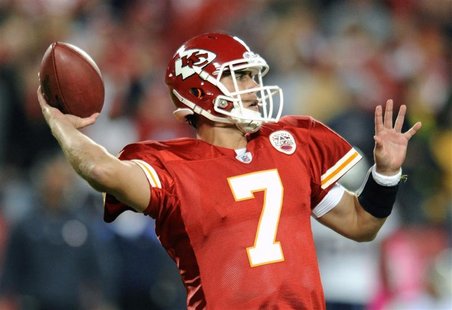 (Reuters) - Kansas City Chiefs quarterback Matt Cassel could miss the rest of the National Football League season with an injury to his throwing hand that will require surgery, the team said on Monday.
Chiefs coach Todd Haley told reporters the injury to Cassel's hand was significant and did not rule out the chance of putting the quarterback on injured reserve, a move that would end his season.
"That's a possibility," Haley told reporters. "I wouldn't say it's an absolute."
The defending AFC West champions are 4-5 and in a three-way tie for second place in the division.
Cassel was not in on the Chiefs' final drive in Sunday's 17-10 loss to the Denver Bronocs after being sacked late in the fourth quarter where he appeared to suffer the injury.
"I wanted to go in but was told not to," Cassel said after the game. "I was a little banged up."
Tyler Palko, who finished the game, is scheduled to start the Chiefs' next game at New England on November 21.
(Reporting by Gene Cherry in Salvo, North Carolina; Editing by Frank Pingue)