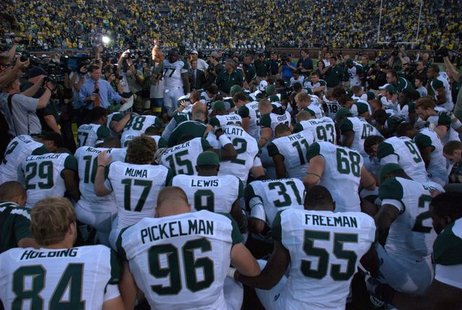 The post-spring practice college football power rankings you've been waiting for are out at SI.com, and Michigan State is still hanging in there at No. 14, But Michigan -- which had been trending better in things like this in the euphoric wake of Brady Hoke coming to town -- isn't listed, not even in the "just missed the cut" category.
Andy Staples writes that "the Spartans were last seen curled in the fetal position as Alabama rolled over them in the Capital One Bowl, but hopefully that loss provided some lessons for a group that could once again compete for the Big Ten title."
MSU is one of four Big Ten teams dominating the second 10 of Staples' rankings: Ohio State is 11, Nebraska 12, and Wisconsin 16. "Surprised the Buckeyes didn't drop more?" Staples writes. "... Ask yourself this: Which Big Ten program is better? If Ohio State had a settled coaching situation and if five of its best players weren't suspended for the first five games, it wouldn't be a stretch to rank the Buckeyes No. 1."
But they don't, so Staples has Oklahoma No. 1.