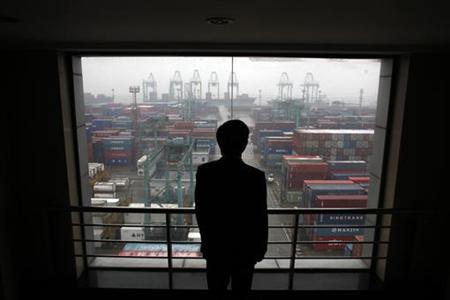 By Doug Palmer
WASHINGTON (Reuters) - The United States welcomes top Asia Pacific trade officials this week to discuss ways to bring the region's economies closer and facilitate commerce at a time when global trade talks appear to be failing.
The Asia Pacific Economic Cooperation trade ministers meeting beginning on Wednesday in Big Sky, Montana, comes just six months ahead of a summit of leaders of the APEC's 21 economies that President Barack Obama will host in Hawaii.
U.S. officials have boiled down their goals as APEC host to three simple words: "get stuff done." They see this as a not-to-be-wasted chance to shape the course of the world's most dynamic region for the coming decades.
"We must decide how we will work together, what rules we will adopt, what principles we will abide by and what behavior we will encourage and discourage in ourselves and in each other," U.S. Secretary of State Hillary Clinton said in March.
The United States has laid out an agenda that includes promoting trade and investment in green technology products and reducing "behind-the-border" regulatory and other barriers that impinge on trade. They also want to build on progress made during Japan's host year in 2010 toward a long-term of goal of free trade throughout the region.
The preferred U.S. "pathway" to a Free Trade Area of the Asia Pacific is a smaller regional agreement known as the Transpacific Partnership (TPP) that Washington is now negotiating with eight other APEC members: Vietnam, Malaysia, Singapore, Chile, Peru, New Zealand, Australia and Brunei.
Once completed, the TPP would be open for other members, including China, to join if they agree to what Washington hopes will include high-standards in areas like labor and the environment and strong discipline on state-owned enterprises that are increasingly becoming players in the global market.
HORSE TRADING
Reaching a TPP agreement will involve trade-offs in sensitive agricultural, industrial and services sectors that probably cannot be accomplished by the time Obama shows off his home state to the region's leaders. But U.S. business leaders are pushing for a "framework" agreement by the November summit that would set the stage for a final deal.
"We believe time is of the essence. Increased U.S. engagement in the Asia Pacific region is critical. It's where the growth is and the TPP gives us a central place in that emerging, burgeoning market," said Cal Cohen, president of the Emergency Committee for American Trade, a U.S. business group.
Six out of the 10 largest U.S. trading partners are members of APEC, a two-decade-old organization that accounts for more than half of global economic output and nearly half of world trade. Many have been aggressively negotiating new trade deals within the region, while the United States has spent years debating trade deals with South Korea, Colombia and Panama.
U.S. Trade Representative Ron Kirk and other TPP trade ministers will meet separately in Montana to discuss the status of the talks, which Cohen and other business leaders hope will eventually be expanded to include Japan, Canada, South Korea, Mexico and other APEC members whether or not China ever joins.
TONIC FOR DOHA ROUND
World Trade Organization Director Pascal Lamy, who warned last month of an "unbridgeable" gap in long-running world trade talks between the United States and major developing countries like China, India and Brazil, will also be in Big Sky.
A strong call from APEC for countries to finish the Doha round could counter growing sentiment that the ten-year-old global talks are dead. But past APEC statements of support have not produced meaningful movement at the negotiating table.
A successful conclusion of the TPP talks could have a tonic effect on the global talks by encouraging China and big developing countries to give in to U.S. demands that they make better offers to open their markets to more foreign companies, said Chris Padilla, a former U.S. Commerce Department official who is now vice president of government relations for IBM.
"It would send a message that there is an alternative (to Doha, there is a high-standard agreement that could be reached and that may have an effect on some that have been unwilling to be more robust in their offers," Padilla said.
(Writing by Doug Palmer; editing by Anthony Boadle)