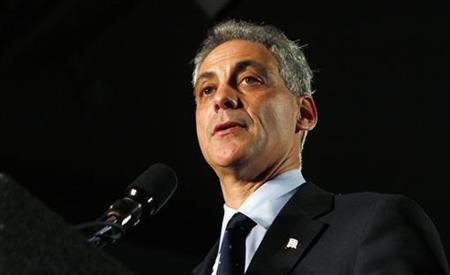 By Mary Wisniewski
CHICAGO (Reuters) - Former White House Chief of Staff Rahm Emanuel was sworn in Monday as the mayor of Chicago, succeeding long-time mayor Richard M. Daley.
Emanuel, who resigned at President Barack Obama's top aide to run for mayor, also was a congressman and adviser to former President Bill Clinton. Emanuel will face a formidable task because Chicago's finances, like those of many U.S. cities and states, were devastated by the recession.
Emanuel, 51, known for his hard-driving style and often profane language, won an election in February with more than 50 percent of the vote against five other candidates.
"As your new mayor, it is an honor to fight for the change we need and a privilege to lead the city we love," Emanuel said in his inauguration speech.
Daley, 69, who retired after 22 years in office, was the longest-serving mayor of the nation's third-largest city. He attended the ceremony along with Vice-President Joe Biden and Illinois Gov. Pat Quinn.
Daley is the son of Richard J. Daley, who was mayor for 21 years until his death in 1976 and was considered the last of the big city bosses.
Emanuel takes over a city that has managed to transform itself from a manufacturing economy into a global city, known as a center for business and finance. It is the adopted hometown of Obama. But the city faces a 2011 budget deficit of more than $500 million and ongoing problems with crime and schools.
(Writing and reporting by Mary Wisniewski; Editing by Greg McCune)