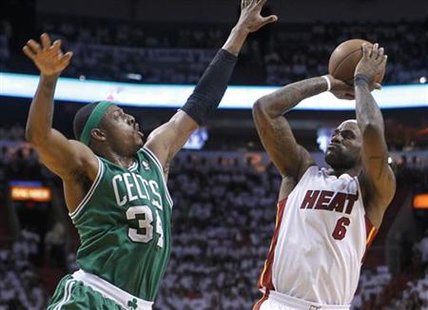 By Simon Evans
PONTE VEDRA BEACH, Florida (Reuters) - LeBron James failed to get past the Boston Celtics as a Cleveland Cavalier, but after finally downing the green giant with an outstanding performance for the Miami Heat Wednesday the most polarizing figure in American sport said sorry to his old fans.
The manner of James's exit from Cleveland last year to team up with Dwyane Wade and Chris Bosh as part of Miami's 'Big Three' left a bitter taste for many.
James announced his departure live on a televised show entitled "The Decision," a move which led to the jersey burning and the vitriol when he returned to play in Ohio.
Even most of those who felt James was perfectly justified, as a free agent, to, "take his talents to South Beach," agreed that he was ill-advised not to handle his exit with more tact and sensitivity.
After Miami reached the Eastern Conference finals by completing a 4-1 series triumph over the Celtics, James, who scored 33 points in the clinching 97-87 win, knelt down on the floor and bowed his head.
For a man who has referred to his own 'greatness' perhaps a little too much, it was noticeable that he marked his moment with silent introspection rather than the seeking of adulation.
Asked what were his thoughts as he knelt, James told reporters: "Everything went through my mind at that point. Finally getting over this hump against this team. Everything I went through this summer, with the decision and deciding to come down here to be a part of this team...and all the backlash I got from it," he said.
Then James made clear exactly how he feels about the choice he made - justified but painful.
Justified because, by teaming up with Wade and Bosh at Miami, James now has a real chance of finally winning his first NBA championship having banished Boston.
"I knew deep down in my heart, as much as I loved my team mates back in Cleveland and as much as I loved home, I knew it couldn't do it by myself against that team," James said.
"The way it panned out with all the friends and family and the fans back home, I apologize for the way it happened," he said.
"I knew this opportunity was once in a lifetime. To be able to come down here and pair with two guys and this organization - in order for me to move on with my career, that team that we just defeated, we had to go through them."
James said all the right things about the Celtics, his respect for them and their coach, and he made his ritual appreciation of the contribution of the entire Heat team.
But after a night where it was hard to feel anything but admiration for his outstanding ability, James will also hope that having finally said sorry to Cleveland, his achievements this year will have a little less bitter taste for some.
(Editing by Justin Palmer)