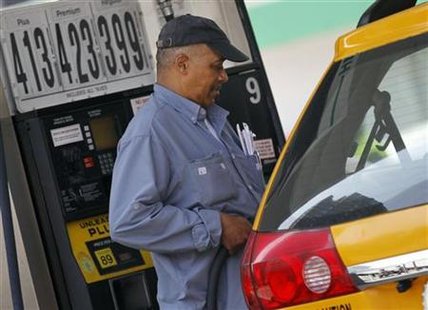 By Richard Cowan
WASHINGTON (Reuters) - The Congress returns to work on Monday to begin negotiations in earnest on the government's jumbo-sized debt, even as Republicans and Democrats trade blame for soaring gasoline prices.
Tamping down voter anger over rising prices at the pump has emerged as a top priority for the White House, which has seen President Barack Obama's approval ratings take a beating during Congress's two-week spring recess.
With polls showing higher pump prices undermining Americans' confidence in Obama's economic leadership, Republicans are keen to exploit an issue that could hurt the Democratic president's chances of reelection in 2012.
Prices at the pump are edging toward an all-time record national average of $4.11 a gallon, overshadowing what the White House views as a more pressing problem -- raising the level of how much the United States can borrow so that it can continue to pay its bills and avoid defaulting on its debt.
The House of Representatives and the Senate will be the battleground in the coming days as both parties seek political advantage in the debate over higher gasoline prices.
The Republican-led House is expected to vote on expanding offshore oil drilling and speeding up the government approval process, while Senate Majority Leader Harry Reid, a Democrat, plans to introduce legislation ending tax breaks worth billions of dollars for major U.S. oil companies.
But a vastly more difficult fight faces Congress as it stares down two ominous dates -- May 16 and July 8 -- when the government risks defaulting on its debt unless some big solutions are found for government spending and tax policy over the long-term.
"I see it as a three-ring circus with the debt limit the center ring," said American University's Patrick Griffin, a former legislative aide to President Bill Clinton.
The Treasury Department says Washington will breach the congressionally-set $14.3 trillion limit on borrowing by around May 16. By employing extraordinary measures, Treasury Secretary Timothy Geithner will be able to stave off a default, but only until July 8.
Kent Conrad, one of the "Gang of Six" Democratic and Republican senators trying to craft a grand budget deal, told "Fox News Sunday:" "We've made enormous progress in that group. And I hope that we are able to announce an agreement soon."
There has been widespread speculation that the senators -- viewed by many in Washington as the best hope for a bipartisan deal -- could unveil their plan this week. But Conrad gave no hint of when the group would complete its work.
GUESS WHO'S COMING TO DINNER?
On Monday night, all the key players in the deficit debate will dine at the White House, not so much to work on legislation but to make nice with each other in a prelude to what is expected to be a blistering fight.
Republican leaders, and some Democrats, have made clear they will not support raising the debt ceiling without major cuts in government spending.
During the recess, the White House has continued to work on a plan that would set broad targets for deficit reduction while leaving negotiations on the details until after the 2012 elections. Such a plan would provide lawmakers political cover to vote to increase the U.S. debt ceiling.
Lobbyists representing major U.S. manufacturers, Wall Street banks and other business groups are expected to send a letter to lawmakers this week warning them of the dire economic consequences if the July 8 date is not met.
"Make no mistake, we are at a critical juncture," Conrad, the Senate Budget Committee chairman, warned in a meeting with business and community leaders in his home state of North Dakota.
"America is borrowing 40 cents of every dollar we spend. We are on an unsustainable course," he said.
Wall Street is looking to Conrad and his fellow "gang" members to sketch a path for a more sustainable course.
"The big event in May everyone is looking to is the release of the Gang of Six" plan, said Chris Krueger, a policy analyst with the MF Global financial group.
Wall Street will be heartened, Krueger said, if the Gang of Six puts out detailed legislative language for fixing the debt problem "and not just another insufferable white paper."
(Editing by Sandra Maler)