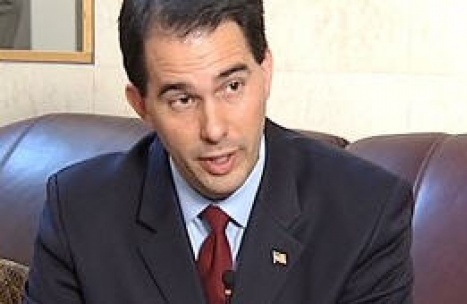 MADISON, Wis. (WTAQ) - The governor's office refused to say Wednesday whether it's still implementing the law that restricts public union bargaining.
Dane County Circuit Judge Maryann Sumi re-affirmed her temporary restraining order yesterday which was supposed to block the new law as of March 18th. But Republicans used a new procedure last week to have it published and adopted.
And the Justice Department maintains that the law is still in effect, because the officials who implemented it were not the ones the judge barred from taking action.
But Judge Sumi said that didn't make any difference – and she mentioned the possibility of court sanctions unless the law goes back on the shelf until she can resolve some legal issues. Her next court hearing on the matter is Friday. Last night,
Administration Secretary Mike Huebsch said Walker's people were still evaluating the judge's order. They started taking higher pension and health insurance payments out of state employees' paychecks last Sunday, as the new law requires – and they also stopped collecting union dues.
Judge Sumi must still decide whether to legally nullify the implementation of the law – and whether the Legislature broke the Open Meetings Law when they passed it.