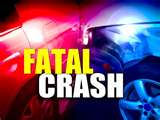 VAN BUREN COUNTY (WKZO) -- One woman was killed and a young man injured in a rollover crash near South Haven Monday afternoon.
The roadway was clear at about 3PM and police are trying to determine why a 68-year-old woman from Illinois lost control of her car on I-196 in South Haven Township. The car rolled through the median and landed upside down in the opposite lane.
The driver, whose name has not been released, was killed in the crash.
Police say her 18-year-old passenger was taken to South Haven Community Hospital for treatment of minor injuries.