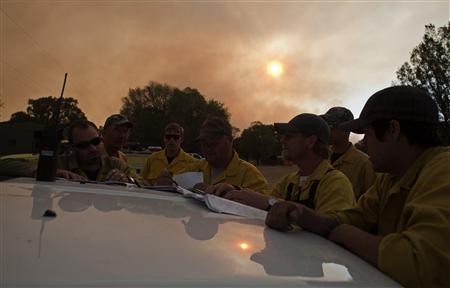 By Brad Poole
DUDLEYVILLE, Ariz (Reuters) - As firefighters in eastern Arizona gain ground against the largest wildfire in state history, a smaller blaze near the Mexican border is bearing down on a city of 70,000 people and winds are expected to increase on Sunday.
The Monument Fire, near the Army's Ft. Huachuca about 8 miles south of Sierra Vista, has destroyed 47 homes and burned more than 20,000 acres.
"About 6,900 people were evacuated by late Saturday afternoon but the number could go up significantly if the fire approaches the city," said Bill Paxton, a spokesman for the Northern Rockies Incident Management Team.
Hundreds of homes have been evacuated in parts of Sierra Vista and on both sides of the state Route 92 corridor in Cochise County.
A few city residents were briefly evacuated Friday when a fire unrelated to the Monument blaze ignited on Ft. Huachuca. That 1,000-acre fire is 100 percent contained and residents were allowed to return to their homes late on Friday evening, Paxton said.
The 1,061 personnel working on the Monument Fire made progress toward containment on Saturday, said Jonetta Trued, a spokeswoman with the Northern Rockies Incident Management Team.
"They reached 27 percent containment by this evening," Trued said, adding that they expect significantly high winds on Sunday.
Meanwhile, more than 4,000 firefighters continued battling the Wallow Fire 200 miles north on Saturday, said John Helmich, a spokesman with the Southern California Incident Management Team.
He added that on Saturday afternoon a spot fire broke out and its flames approached the town of Luna, New Mexico, about six miles from the eastern edge of the Wallow fire, and its residents were evacuated.
The Wallow Fire grew to 500,409 acres but was 38 percent contained by Saturday morning. About 200 residents remain under evacuation in the small town of Greer, Helmich said.
Wind will be a factor on both fires through the weekend.
The National Weather Service was forecasting gusts up to 50 mph on Sunday -- winds that would ground all aircraft dropping water and flame retardant on both fires.
Those aircraft have been instrumental in halting the Monument Fire's advance toward more densely populated areas, Thompson said.
The Wallow Fire has entered its 21st day as it claims pine-studded acreage in the heart of the state's White Mountains, but no serious injuries have been reported.
The fire erupted May 29, apparently from a campfire left unattended in the Bear Wallow Wilderness area, just east of the San Carlos Apache Indian Reservation.
Forest Service officials have said two "persons of interest" were being questioned by fire investigators, but no arrests have been made.
(Additional reporting by Eric Johnson in Chicago; Editing by Jerry Norton)