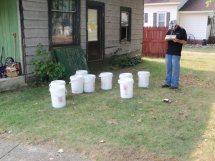 KALAMAZOO, Mi (WKZO) - Meth labs are dangerous and cleaning up behind them can be hazardous, as well. For years now the cost of cleaning up behind a meth lab operation--anywhere from one-thousand to five-thousand dollars--was underwritten through a nationwide grant managed by the DEA, but that funding is set to expire.
With funding coming to an end, local law enforcement officials have come together to establish a container program as a cost effective alternative, modeled after a program already in use by the Kentucky State Police. DEA certified investigators with the Kalamazoo County and Van Buren County Sheriffs' offices, Portage Police, Kalamazoo Public Safety, and KVET will complete training this week on meth lab remediation.
They're being trained to take care of any mess until the DEA can take over. Once the program is up and running, it will be the first program in this part of the state to offer a cost-effective clean-up alternative.