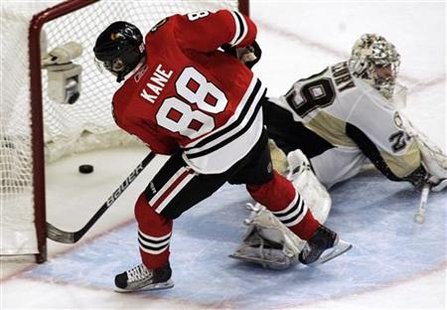 CHICAGO (Reuters) - Chicago Blackhawks forward Patrick Kane had surgery on his left wrist on Tuesday and is expected to be fit for the start of training camp in September, the National Hockey League team said.
Kane, who scored the Stanley Cup-winning goal in overtime for Chicago in 2010, had surgery to repair a scaphoid fracture in his left wrist.
"The surgery went very well and we anticipate a full recovery," Blackhawks head team physician Michael Terry said in a statement on Tuesday.
"Patrick will begin doing modified preseason workouts shortly and we hope for a full return to activity in six to eight weeks."
Kane, selected first overall by the Blackhawks in the 2007 NHL Entry Draft, had 73 points last season including a team-high 46 assists.
The former rookie of the year, who has twice appeared in the NHL All Star Game, has 103 goals and 200 assists for 303 points in 317 games during four seasons with the Blackhawks.
Chicago open their regular season on October 7 against Dallas.
(Reporting by Frank Pingue in Toronto; Editing by Patrick Johnston)