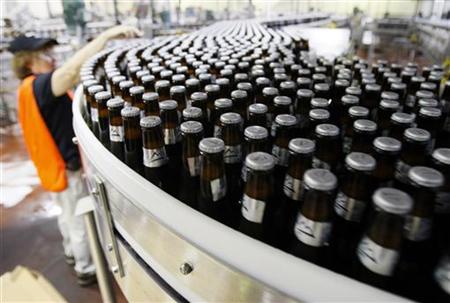 By David Bailey
MINNEAPOLIS (Reuters) - Minnesota's government shutdown may force MillerCoors to halt distribution of its brands statewide within days as the economic toll from the political impasse deepened on Wednesday.
By Wednesday, hundreds of bars, restaurants and liquor stores across Minnesota already had been stopped from buying new inventory due to expired permits the state has not renewed.
MillerCoors, the second largest brewer in the United States, failed to get its license to sell 39 brands in Minnesota renewed before a government shutdown over a budget impasse began with the new fiscal year on July 1.
"Without that brand label registration, their distribution and sales aren't allowed to continue," Doug Neville, a state public safety department spokesman, said on Wednesday.
The registration allows the manufacturing, distribution or sales of the MillerCoors brands in the state, requiring them also to be pulled from liquor stores, bars and restaurants where they are sold, Neville said.
"We reached out to MillerCoors to talk to them about their brand label registration being expired and requested from them a plan to discontinue distribution and sales of their products in the state," Neville said.
"We are hoping within a couple of days to have a clear idea what that looks like," he added.
MillerCoors spokesman Julian Green said on Wednesday the company was working with the state to resolve the situation.
"With 39 brands at stake in one of our largest markets in the country during the most important selling period, in the summer, we do not take the business of ensuring proper state licenses lightly," Green said.
Minnesota's broad government shutdown reached nearly two weeks on Wednesday with no new talks scheduled between Democratic Governor Mark Dayton and Republican legislative leaders, who have asked for a temporary funding plan.
'POLITICAL MESS' SNAGS BAR OWNERS
The drag on Minnesota's economy is expected to increase as the shutdown continues. It already is the longest shutdown in recent U.S. history and has prompted the furlough of more than 22,000 state workers, with a ripple effect on thousands of jobs in the private sector.
"A large percentage of our beer consumed in Minnesota comes from MillerCoors," Frank Ball executive director of the Minnesota Licensed Beverage Association, said on Wednesday.
Ball said the association has asked a state judge to suspend the buyer's card and brand label licensing requirements until the government comes back or at least allow the renewals to be processed. He is also lobbying state lawmakers.
"We think it is ludicrous to think they have to pull all of their product because an administrative clerk is off duty," Ball said, describing it as a "political mess".
Green said MillerCoors had filed paperwork to renew the three-year brand licenses by the June 13 due date, actually overpaying initially, and submitting a second check by June 27. The renewal was never issued and neither check was processed.
The renewal fees amount to $30 per brand, or $1,170. A buyer's card identification for bars, restaurants and liquor stores is renewed annually and costs $20.
"We believe it is unfortunate that we and other state licensees including retailers and other brands are being impacted by the state shutdown when we followed all applicable laws," Green said.
Neville said the brand registrations expired on June 13 and the renewal paperwork was received June 15. The paperwork was wrong, returned to MillerCoors, and not resubmitted in time to be processed before the shutdown, he said.
Neville said the state public safety department's alcohol and gambling enforcement division found the Minnesota statute would not allow it to make accommodations.
In addition to MillerCoors, about 300 bars, restaurants or liquor stores across the state cannot buy new alcohol inventory because their permits have expired. About 10,000 permits are issued statewide and more will expire in August.
The American Legion's Liberty Restaurant and Bar in St. Michael northwest of Minneapolis plans to stay open through the shutdown though the beer is starting to run out, general manager Norm Freske said on Wednesday.
"We are still surviving, still serving booze," Freske said. "We are starting to run out (of beer). We actually had more on hand than I thought we did."
Liberty's permit to buy alcohol expired at the end of June and it had been considering closing when the alcohol runs dry.
"It will cut into sales obviously," Freske said. "Liquor is a big portion of our sales, but food is right up there. We have good food, so we are definitely not going to close the doors just because of liquor."
(Additional reporting by Martinne Geller in New York; Editing by Cynthia Johnston)