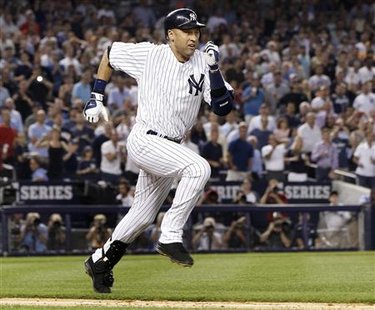 By Larry Fine
NEW YORK (Reuters) - B.J. Upton homered and drove in three runs to back the strong pitching of Jeff Niemann as the Tampa Bay Rays beat the New York Yankees 5-1 on Thursday and kept Derek Jeter two hits short of the milestone mark of 3,000.
The loss dropped the Yankees (51-35) out of first place in the American League East as the Boston Red Sox (52-35) leapfrogged them with a 10-4 win over the Baltimore Orioles.
The victory lifted the Rays to 49-39, three games behind New York in the AL East standings.
Niemann went seven and one-third innings, giving up one run on six hits to improve to 4-4 on the season. Juan Cruz and former Yankee Kyle Farnsworth finished up in relief.
"He was really big for us tonight," Rays manager Joe Maddon said about Niemann, who threw 114 pitches before leaving in the eighth. "The Yankees have a tendency of wearing out bullpens."
Niemann was rudely greeted by a line-drive double to left-center on his first pitch of the game to Jeter, but he held the shortstop and the rest of the Yankees in check for the rest of his outing.
"Early on, I thought I'd have a few (hits)," Jeter told reporters. "But Niemann did a great job. He pitched out of a couple of jams and then settled down."
The hit gave Jeter 2,998 in his career and he nearly added to the total on a smash down the third-base line in the fifth inning that Sean Rodriguez gobbled up and turned into an out.
"That hurt my feelings a little bit," joked Jeter, who had one last chance to get a hit after an odd play in the bottom of the ninth.
With two outs, ninth-place hitter Brett Gardner swung and missed for strike three but reached base when the pitch dove into the dirt and bounced away from the catcher.
That brought up Jeter for a fifth time in the game, but the Yankee captain hit a slow chopper toward third that Rodriguez charged and fired to first to nip Jeter on a close play.
The Rays roughed up Yankees starter Bartolo Colon (6-4) for five runs on 10 hits over the stocky right-hander's five and 2/3 innings of work.
They scored one run in the first, two in the third and two more runs in the fifth and had 12 hits in the game with Ben Zobrist going 3-for-3 including a solo home run.
Yankees manager Joe Girardi would not second-guess himself for staying with the ineffective Colon, who was making his second start since coming off the disabled list, into the sixth inning.
"You'll just fry your bullpen, just fry it," Girardi said about bringing in relief help earlier. "I have a lot of confidence in Bartolo...but he struggled."
(Editing by Greg Stutchbury)