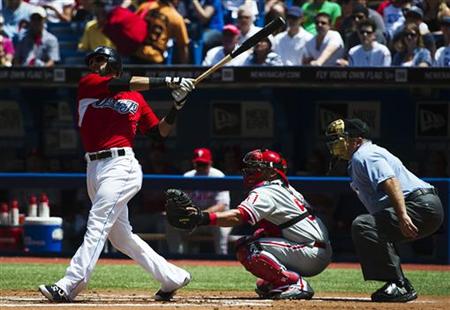 By Frank Pingue
TORONTO (Reuters) - The party-pooping Philadelphia Phillies rallied in the ninth inning to edge the Toronto Blue Jays 7-6 on Friday in front of a raucous, near-capacity crowd celebrating the start of the Canada Day holiday weekend.
Ryan Howard, a former National League most valuable player, hit a two-run single to center field that put the Phillies ahead and spoiled the party atmosphere in the Rogers Center.
The shot from Howard also helped take some pressure off the offense of the major league-leading Phillies, who entered the game having topped six runs in a game twice in two weeks.
"This is what we're capable of doing but at the same time you have to realize baseball is an up and down game," Howard told reporters.
"As long as you can outscore your opponent, that's the name of the game and it doesn't matter how many runs you get."
The Blue Jays, wearing their Canada Day red jerseys, took a one-run lead into the ninth inning after Jose Bautista launched a two-run shot to left field in the seventh. But the Toronto bullpen proved no match for the Phillies.
MAJOR-LEAGUE LEAD
Bautista's homer tied him with New York Yankees first baseman Mark Teixeira for the major-league lead at 25.
Frank Francisco walked Philadelphia's Placido Polanco to start the ninth and then gave up a double to Chase Utley before Howard's homer put the visitors ahead for good.
Howard's go-ahead hit silenced the mood in the Rogers Center where a crowd of 45,512, many wearing the red and white colors of the Canadian flag, relished a festival atmosphere and joined in a Mexican wave midway through the game with the home team in the lead.
Toronto starting pitcher Ricky Romero, who entered Friday's contest having gone nine consecutive games of seven innings or more, left after allowing four runs in 6-1/3 innings along with three strikeouts and four walks.
"I didn't come through with the shutdown inning, usually I've been pretty good with that," said Romero. "Today was just an uphill battle for me all day and I couldn't really get into a rhythm all day."
The Phillies tightened their grip on the National League East division to four-and-a-half games while the Blue Jays fell to 10 games back in the American League East.
(Editing by Tony Jimenez)