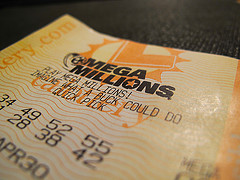 UNDATED (WSAU) Wisconsin lottery players have missed out on the nation's fourth-largest jackpot ever.
Holders of two tickets in Idaho and Washington State will share the $355-millionprize in last night's Mega Millions' drawing. The jackpot went up by $25-million during the day yesterday, as more players bought tickets even though the odds of winning the jackpot were one-in-176-million.
Wisconsin did have a second-prize winner. A ticket sold in De Pere at the Scheuring Road Mobil Mart won $250,000 by matching all five regular numbers but not the Mega Ball. The odds of getting that prize are just under one-in-four million. Also, a ticket sold at a Speedway in Milwaukee won $10,000 by matching four numbers plus the Mega Ball. The odds of doing that are one-in-689,000.
Last night's numbers were 4, 8, 15, 25, and 47. The Mega Ball was 42, and the Megaplier was four. The jackpot goes back to $12-million for the next drawing on Friday night.
Meanwhile, tonight's Powerball jackpot is at $34-million.