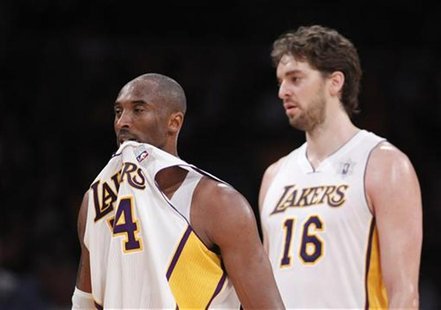 By Mark Lamport-Stokes
(Reuters) - With egos badly bruised after losing their first two games of the regular season, the Los Angeles Lakers enjoyed a rare day off on Wednesday having avoided their first 0-3 start since 1978.
The 16-time NBA champions were beaten 88-87 by the Chicago Bulls in their season opener then 100-91 by the Sacramento Kings before returning to winning ways with a 96-71 romp at home to the Utah Jazz on Tuesday.
Three games crammed into three hectic days at least ended on a winning note after many Lakers fans despaired while watching their team squander an 11-point lead against the Bulls and then look worryingly old and slow against the younger, faster Kings.
New Lakers coach Mike Brown was delighted to watch his players finally earn him a win and he rewarded them with a day off, their first since training began on December 9.
"I feel good about my team, I feel good about the process we're going through right now," Brown told reporters.
"It's helping me to see what kind of character we have while we're learning."
The Lakers have been perennial championship contenders in recent years with All-Star guard Kobe Bryant and Spanish forward Pau Gasol leading the way but their fans were hardly encouraged by the moves made, or not made, during the offseason.
Inspirational coach Phil Jackson retired and disgruntled forward Lamar Odom, the league's best bench player last season, asked to be traded to the NBA champion Dallas Mavericks.
Odom had felt more than slighted when he and Gasol were part of a three-club deal that would have brought four-time All-Star Chris Paul to the Lakers, only for that trade to be blocked by the NBA.
TALK OF THE TOWN
Paul ended up moving to Los Angeles, but he instead linked up with the once lowly Clippers who instantly became the talk of the town as genuine title contenders with former All Stars Chauncey Billups and Caron Butler also joining the franchise.
All of a sudden, the glitzy Lakers with their star-studded background and 'showtime' appeal were overshadowed by their city rivals.
Even worse, they knew they would be without Andrew Bynum for their first four games while the seven-foot center served a suspension imposed on him at the end of last season.
Erratically though the Lakers have begun this campaign, twice NBA Finals MVP Bryant has already seen enough from his team mates to believe they have the necessary grit to withstand whatever is thrown at them.
"We're a very active team," said Bryant, who has guided the Lakers to five championships. "This is a blue-collar team. We're a scrappy bunch.
"We're going to fight and scratch and claw for everything, as it should be. That'll get us by."
However, Bryant was relieved that the Lakers' back-to-back-to-back start, the only one to launch the 2011-12 NBA regular season, was now behind them.
"I'm glad that's over," he smiled after scoring a team-high 26 points against the Jazz.
"There were a lot of positives. We were a lot more consistent and we didn't have to think about it as much out there. It was natural for us."
Bryant and the Lakers are next in action on Thursday when they host the New York Knicks at the Staples Center.
(Editing by Julian Linden)