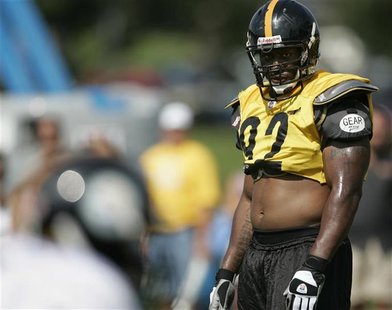 (Reuters) - Pittsburgh Steelers' linebacker James Harrison was suspended one game for a dangerous helmet-to-helmet hit on Cleveland Browns quarterback Colt McCoy, the National Football League (NFL) announced on Tuesday.
Harrison was penalized for roughing the passer during last Thursday's game, won 14-3 by the Steelers, but the NFL added a one-game ban because of his previous indiscretions.
A repeat offender, Harrison was fined four times between 2009 and 2010 for illegal hits on quarterbacks. He was also fined on two other occasions for unnecessary roughness.
The NFL has recently introduced new rules to protect quarterbacks from late hits.
The one-game suspension meant Harrison would miss Monday's game against the 49ers in San Francisco, where a victory for the Steelers, last season's AFC Conference champions, would secure their place in this season's playoffs.
Harrison, already a two-time Super Bowl winner with the Steelers, was also banned from training with the team until his suspension was served.
Under NFL rules, the 33-year-old Harrison was given three days to lodge an appeal against the suspension.
(Reporting by Larry Fine in New York, Editing by Julian Linden)