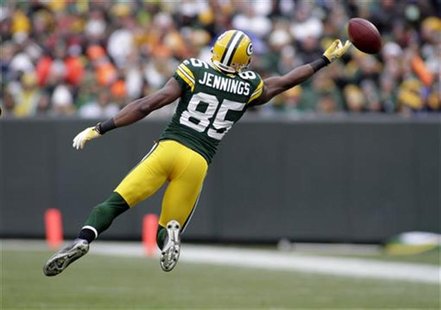 (Reuters) - All-Pro Green Bay Packers wide receiver Greg Jennings will miss two to three weeks with a knee sprain but should be back with the undefeated team in time for the playoffs, coach Mike McCarthy said on Monday.
Jennings leads the pass-oriented Packers in receptions (67) and ranks second in touchdowns (9) and yards receiving (949) with three games to go in the National Football League's (NFL) regular season.
He was injured Sunday when he landed awkwardly on his left knee in the Packers' 46-16 rout of the Oakland Raiders for their 13th consecutive win of the season but should be back when Green Bay begins it's quest for a second consecutive Super Bowl.
"We feel fortunate," McCarthy told reporters.
His loss could be a major obstacle in Green Bay trying to become the first NFL team to complete the regular season undefeated since the 2007 New England Patriots.
The Packers, who have already qualified for the postseason, can clinch home-field advantage for the NFC playoffs with a win over Kansas City on Sunday. They then face the Chicago Bears on December 25 and the Detroit Lions on January 1.
(Reporting By Gene Cherry in Salvo North Carolina; Editing by Frank Pingue)