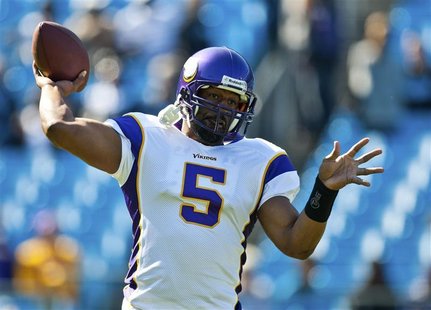 (Reuters) - The Minnesota Vikings released Donovan McNabb on Thursday, freeing the out-of-favor quarterback to move to another team.
"We both sat down and talked, just a mutual decision and we both agreed this was probably going to be the best thing to do," Vikings head coach Leslie Frazier told reporters.
The 35-year-old McNabb was brought in by the Vikings during the offseason and was viewed as the new starting quarterback following the retirement of Brett Favre.
However, the former Philadelphia Eagles and Washington Redskins quarterback has not started since week six when he was replaced as starter by Christian Ponder, Minnesota's 12th overall pick in last year's draft.
A number of teams chasing playoff slots have lost their quarterbacks to injury in recent weeks including the Houston Texans and McNabb's hometown team, the Chicago Bears.
(Reporting by Simon Evans in Miami; Editing by Julian Linden)