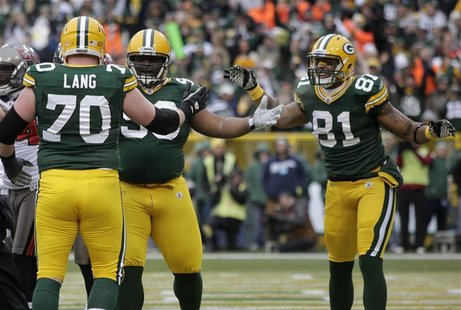 By David Bailey
(Reuters) - The Super Bowl champion Green Bay Packers will sell shares of stock next week offering no dividend, no chance for appreciation, practically no transfer rights and not even a shot at a highly prized season ticket to watch the professional football team.
But the offering announced on Thursday by the Packers does give fans the opportunity to own a piece of the defending NFL champions, undefeated through 11 games this season.
The Packers were founded in 1919 and became a publicly owned nonprofit four years later. It is the only team permitted by the National Football League to have that structure.
The team plans to offer 250,000 shares initially at $250 each on December 6, which would raise about $62.5 million toward a $143 million expansion of Lambeau Field announced last summer.
"We appreciate the interest that fans have expressed in our fifth stock offering," President/CEO Mark Murphy said in a statement. "We are not yet in a position to fully discuss the offering."
Ownership in the Packers confers voting rights, but the stock is unlike traditional U.S. common stocks. The team bylaws and NFL rules severely restrict its transfer, permitting them only to members of the immediate family.
The team warned in its announcement on Thursday that "stock in the Packers does not constitute an investment in 'stock' in the common sense of the term" and would not even grant season-ticket holder privileges.
On the upswing or downswing, the Packers season-ticket base has been extremely strong. The team has been sold out on season tickets since 1960 and fans who received the right to buy tickets this year had been on the waiting list for 35 years.
Of course, the list was less than 10,000 names long when they joined it and the team offers no estimate of how long it will take for people joining the list today to reach the top. The list is now at 93,000 names and perhaps 70 to 90 people reach season ticket status each year.
The offering is open to individuals, including spouses in joint tenancy, in the United States, Guam, Puerto Rico and the U.S. Virgin Islands.
Participants are barred from acquiring more than 200 shares from the current offering combined with the previous stock offering in 1997. The team also had stock offerings in 1923, 1935 and 1950.
The Packers team has 112,205 stockholders with a total of 4.75 million shares. and is governed by a board of directors and a seven-member executive committee. No one person is allowed to own more than 200,000 shares in the team.
(Editing by Greg McCune)