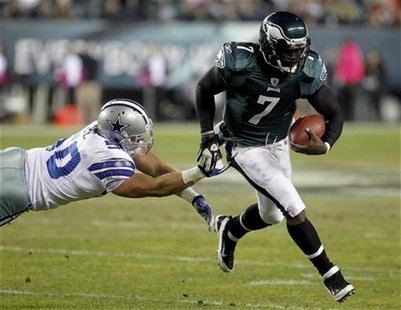 (Reuters) - Philadelphia's fading NFL playoff hopes took another hit on Wednesday when quarterback Michael Vick was ruled out of this week's game against the Seattle Seahawks.
Vick, who has injured ribs and will miss his third consecutive start on Thursday, will be replaced by Vince Young. The Eagles will also be without leading receiver Jeremy Maclin, who is sidelined with hamstring and shoulder problems.
The Eagles, who acquired six former Pro Bowl players before the season started and were tipped as Super Bowl contenders, dropped to 4-7 after Sunday's 38-20 defeat to New England.
"We're definitely upset about some things," Young told the team's website (philadelphiaeagles.com).
"We have the right to be because we're all competitors and we love to compete, we love winning games. At the same time we can't let that stuff drag us (down)."
(Writing by Jahmal Corner in Los Angeles; Editing by Peter Rutherford)