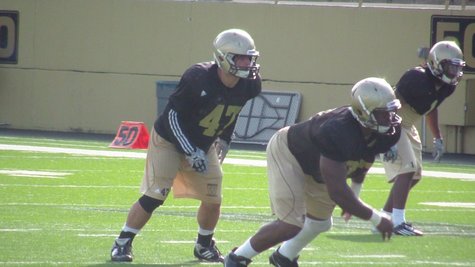 KALAMAZOO,MI(WKZO)-- The Western Michigan Broncos are eight days away from their season opener vs The University of Michigan in Ann Arbor. With such a big game approaching, Broncos Sports First decided to catch up with veteran linebacker, Mitch Zajac.
Despite being bowl eligible in 2010, the Broncos were not invited to a bowl game. The lack of a bowl invitation has the team buzzing with excitement to prove themselves this year. "We're definitely excited, we've put in a good three weeks here and everyone's on the same page, everything's coming together and just the opportunity to play in the Big House in front of a big crowd, in front of all our fans, it's going to be exciting."
The last time Western Michigan played the Wolverines, they got behind early and were never able to recover, but this time the Broncos should be a little more prepared. "Everytime we play in a big arena, its always a new experience, whether its Nebraska (2008), or at Ford Field vs Illinois(2008), Michigan (2009), Michigan State (2010), all those times just prepare you because you're used to the enoviornment now and you don't have to worry about all the people in the stands and all that stuff. You just worry about playing the game."
There has clearly been tremendous progress from the Broncos defensively, "We're leaps and bounds ahead, (of last year) now that we've had the coaches for another year, all the schemes are the same, and everybody's on the same page. Theres a lot of great leadership going on, everybody's buying in and we don't have to worry about somebody not doing their job. Everybody's working hard and doing what they have to do."
Defensive expecatitions for the Broncos are high and Zajac is more than aware of that. " We're going to be there to make plays. Our defensive line is awesome, they take up all the blockers for us so we can really get downhill and move side to side. Whatever play we see, we're able to run around and make those tackles that the defensive line gives us the opportunity to make."
Western Michigan will return to the practice field for their first Michigan Week practice, Sunday at 3:20 p.m.