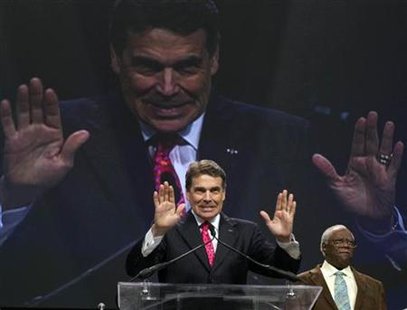 By Kim Dixon
WASHINGTON (Reuters) - Texas Governor Rick Perry jumps into the 2012 Republican race to unseat President Barack Obama on Saturday, and experts say he will have no trouble pulling in the millions needed to forge a campaign.
Any Republican will need a hefty warchest to compete with Democrat Obama, who raised a record $745 million during the 2008 election and who some say could pull in $1 billion this time.
The three-term governor has raised $103 million since 2001 and $39 million in the last election alone, according to Texans for Public Justice (TPJ), a watchdog group. Nearly half of that cash has come from mega-donors giving $100,000 or more.
"Texas is ground zero for Republican fund-raising," said Rice University historian Douglas Brinkley. "He's about to get more money than any other Republican in the country."
After months of speculation, Perry is to make it official in an event on Saturday in South Carolina.
Here are some facts about Perry's fund-raising prowess and why he will likely be a force in the all-important money battle.
WHO ARE PERRY'S BIG DONORS?
According to TPJ, Perry's biggest donors come from the worlds of finance, insurance and real estate.
Top donors to Perry include the political action committee of the Republican Governors Association, which he chairs, Texas homebuilding billionaire Bob Perry and Dallas billionaire and businessman Harold Simmons, who has ties to several Texas companies.
Others in the top 10 include Houston billionaire Thomas Friedkin, San Antonio Spurs owner Peter Holt, and the political action committee of AT&T Inc.
The large number of donations over $100,000 gives Perry an "instant bundling network" to compete against those who have been in the race for months and even years, Texans for Public Justice director Craig McDonald said.
HOW ELSE CAN PERRY RAISE MONEY?
Several so-called independent expenditure groups -- which have no official connection to the campaign but employ individuals with deep ties to Perry -- can raise unlimited funds for the governor.
Several of these groups, emboldened by the Supreme Court's Citizens United decision striking down donations limits, are up and running on Perry's behalf. Many also attract donors by providing secrecy from public disclosure.
WILL UNCOMMITTED REPUBLICAN DONORS BACK PERRY?
Republican candidates have raised a fraction of the more than $100 million they had hauled in at this point in the last election, with many big names waiting in the wings to see how the crowded presidential field sorts itself out.
"I wouldn't be surprised if he got the Texas money sitting on the sidelines," McDonald said. "He will do very well coming out of the gate."
Whether Perry can lure enough fence sitters from backing front-runner Mitt Romney or another candidate remains to be seen.
(Sources: Texans for Public Justice, Forbes)
(Editing by Philip Barbara)